What does PMOYS mean? Your guide to Snapchat language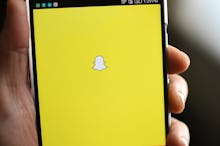 Snapchat has 161 million daily active users, and the average user opens up the app 18 times a day, so it is not surprising that the platform has organically developed its own language. An assortment of letters or a single word can send a message on its own, and if you're not in the know, it can leave you totally confused. Below are six terms to know if you're serious about Snapchat.
PMOYS
PMOYS stands for "Put me on your Snapchat," and it's a request/order for someone to put a picture of them on Snap. Usually, it's a way to prove a friendship or show that two people are hanging out. When someone texts PMOYS, it can be a request to become friends on the platform.
Streaks
In the world of Snapchat and teens, you are your number of Snapstreaks. The higher the streaks, the cooler you are. On Snapchat, a Snapstreak is symbolized with a fire emoji next to the number of days two people have snapped each other back and forth.
"If you AND your friend don't both send a Snapchat within 24 hours, you will lose your Snapstreaks!" Snapchat explains within the app. 
As such, many users send random snaps to their "streaks friends" with one word on the snap: "streaks." This lets the person know that the snap was sent to preserve their streak.
GAS
Nothing related to flatulence or gasoline, the word or acronym "GAS" means "Good Afternoon streaks." For those who send streak snaps several times a day, it's seemingly important to differentiate the streaks.
OOTD
Whether it be an influencer or someone feeling their outfit, OOTD is a way to show off an ensemble they're proud of. It stands for "outfit of the day," and the focus of the snap is the wardrobe.
SO
SO or S/O stands for "shoutout" — not "significant other," as it often does elsewhere online. It is used when a user is calling out someone in a good way.
Snapchat Fam
Your followers on Snapchat are your Snapchat family, and when a user refers to their "snapchat fam," they're talking to you and all their other followers.