Houston high school teacher James Bretney under investigation for anti-Muslim tweets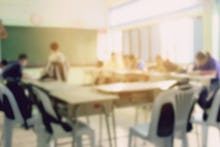 A high school teacher in Houston, Texas, is in hot water for posting a series of anti-Muslim remarks online.
On Wednesday, Houston's Fox 26 reported that the Houston Independent School District is currently investigating James Bretney, a ninth grade teacher at Sterling Aviation High School, after he confessed to making a series of Islamophobic tweets.
Some of those tweets included phrases like "I hate Islam" and "Embrace Islam and you embrace death."
Bretney, who also is a comic book writer, tweeted those comments under the username of @lordetiberius. Several Twitter users have publicly made complaints about Bretney's Islamophobia and harassment online. His account has been suspended from Twitter.
Despite his heated statements online, Bretney said he still cares for his work and students.
"I respect my students," Bretney said. "I love my students. My students are the reason I am in that classroom but this is not about that. This is about one man expressing his opinion."
The Council of American Islamic Relations expressed concerns over Bretney's statements and his role in the school. Members of the Muslim civil advocacy organization are calling to meet with HISD school officials over Bretney's comments.
Ruth Nasrullah, communications coordinator for CAIR-Houston, told Fox 26 Bretney's remarks could foster a toxic learning environment for Muslim students.
"It's not part of this country to look at people from a certain racial or religious background and just make these assumptions that they're bad people and to express that message again for students to hear that ... it's unconscionable," Nasrullah said.
The Houston Independent School District did not respond to Mic's request for comment.