Chelsea Clinton just announced her new picture book: "She Persisted"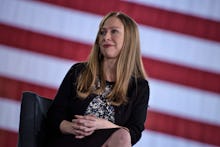 The latest in a long line of women to co-opt the infamous words House Majority Leader Mitch McConnell used to silence Sen. Elizabeth Warren? Chelsea Clinton, who announced on Twitter on Thursday that her new picture book, "She Persisted," will hit shelves in May.
After she refused to stop speaking on the Senate floor in February, McConnell said of Warren: "She was warned. She was given an explanation. Nevertheless, she persisted." Now, Clinton's book showcasing inspirational American women throughout history will borrow the phrase.
In an exclusive interview with Entertainment Weekly, Clinton, already the author It's Your World: Get Informed, Get Inspired & Get Going, said that her idea for the book came from a desire to reach "everyone who's ever wanted to speak up but has been told to quiet down, for everyone who's ever been made to feel less than."
The 13 women in 'She Persisted' all overcame adversity to help shape our country — sometimes through speaking out, sometimes by staying seated, sometimes by captivating an audience. With this book, I want to send a message to young readers around the country — and the world — that persistence is power.
The book's illustrations, by Alexandra Boiger, will feature women like Harriet Tubman, Hellen Keller, Oprah Winfrey and Sonia Sotomayor, and will also feature a cameo appearance by "another important female figure," EW reports. Hmmm!
She Persisted will be available in stores on May 30.