Common, T.I. and 5 other rappers respond to Snoop Dogg, Donald Trump 'Lavender' video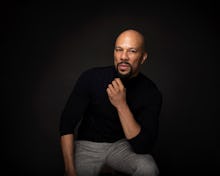 Common, T.I. and Ice-T are among the hip-hop artists currently defending Snoop Dogg's controversial new music video "Lavender." In the new visual, the rapper points a fake gun at an actor depicting a clown-faced President Donald Trump.
Trump responded via Twitter with the implication that Snoop could face jail time for his satire. But this is likely an empty threat since freedom of speech protects the rapper. And Snoop said via Instagram that he has nothing else to say about his new protest track. 
But it appears that Snoop doesn't have to explain himself any further, as his fellow rappers continue to speak out on his behalf. Here are some of their reactions:
Common
Common explained to TMZ that a rapper using his voice to speak on issues concerning the president is nothing new. Common compared Snoop's actions to popular and often political hip-hop acts Public Enemy and KRS One.
Hip-hop has always been about freedom of expression. That's one of the most powerful things. Hip-hop has been like a voice for so many people. At the end of the day hip-hop has always been... if you go think about the days of Public Enemy, and you fast-forward to Kendrick Lamar, like, hip-hop artists have always been speaking up and saying what they feel. Like, if it's a president they don't like. If it's a politician they don't like. I was just listening to KRS and he was talking about Clarence Thomas back then, and it was like, if you didn't like what was going on, you speak up, and we're entitled to do that as people.
Bow Wow
Bow Wow joined the beef by targeting first lady Melania Trump with some obscene Twitter remarks on Thursday. He later deleted the tweets, but you can see them below: 
Ice-T and Treach
Ice-T, along with Treach from rap group Naughty by Nature, told TMZ their thoughts in a side-by-side interview. Ice-T believes the video is a bold statement.
It's basically him saying everybody's a clown, including Trump, which I think we all agree. The part when you point the gun at the president, that's against the law, you know, you gotta know that. You know, you can't kill the president. But he pushed the line. He had the edge going right there.
Treach also believed Snoop's decision to hold up a fake gun to Trump's head was an artistic decision the artist had the right to make. 
But it was a confetti gun. When he shoots it ain't anybody got shot. Confetti came out. It was artistic. He didn't come and have blood splattered all over the place. And I think that's illegal and its threatening, but he's showing clowns and it's artistic.
T.I.
Rapper T.I. roasted Trump on Instagram and called the president a "tangerine tanned muskrat scrotum skin." Read the full text below: 
@snoopdogg is a Fuckin Legend u Fucking Tangerine Tanned Muskrat scrotum skin, Lacefront Possum fur Wig wearing, Alternative fact, Atomic Dog diarrhea face ass man!!!! Leave our legends names out ya fuckin old ass puppy piss smelling ass mouth & continue to focus on dividing minorities, building barriers, alienating immigrants, & fuckin this country up like u been doin.... #UWannaBeDictator #PresidentialLevelFuckBoy
Talib Kweli
Rapper Talib Kweli, who has always been outspoken about politics, thanked Snoop Dogg on Twitter Tuesday for speaking his truth.
Ponce De'Leioun
Emerging rapper Ponce De'Leioun believes there wasn't as much outrage when dolls and dummies depicting former president Barack Obama were found hanging in public areas while he was in office. Two examples of these incidents were reported in Missouri in 2014 and in North Carolina in 2012.
Mic has ongoing music coverage. Please follow our music hub here.