Girls in the UK are missing school because they can't afford menstrual products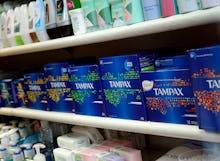 U.K.-based charity Freedom4Girls had been sending free menstrual products overseas, primarily to women in Kenya who might not be able to afford them — before they realized many young girls in Britain were facing the same problem.
A school in Leeds, a city in west Yorkshire, recently contacted the charity because the staff had noticed some female students had been missing class because of their periods.
"I wasn't shocked at all," Freedom4Girls member Tina Leslie told the BBC. "We had an idea that there was something happening in schools. It's linked to poverty — [there were] 25,000 visits to food banks just in Leeds last year."
Two teens recalled their struggles dealing with menstruation, both for reasons of affordability and lack of education about their bodies.
"I wrapped a sock around my underwear just to stop the bleeding, because I didn't want to get shouted at," one girl said. "I didn't know what else to do."
The girl first began menstruating at age 11, but kept it a secret from her mother until she turned 14. But even then, there was nothing her mother could do to help, given the family's financial constraints.
"I didn't get any money because my mum was a single parent and she had five mouths to feed, so there wasn't much leftover money in the pot to be giving to us," she said.
Another teen said she skipped school every time she got her period because, for a long time, she "didn't know what was actually going on" with her body. 
"That made my attendance really low and I was getting in trouble," she said. 
Concerns surrounding the cost of and access to sanitary products came to the fore in March 2016, when former Prime Minister David Cameron announced an end to Britain's tampon tax. 
However, in May, the Independent reported the tax was still in effect after European Commission regulations blocked member states from repealing it. The Independent's report remains the most recent update on Britain's tampon tax.
Similar efforts have seen some success in the United States, where menstruating individuals spend an estimated $18,000 on sanitary products over their lifetime. 
The same month Cameron made moves to abolish Britain's tampon tax, Chicago got rid of its own to correct what the city council said was an "unfairness to women." 
In September, New York City's tampon tax repeal went into effect, though the rollout itself might have been a little shaky. 
Maryland, Massachusetts, Minnesota, Pennsylvania and New Jersey have all done away with the tax on the state level, while individual colleges, high schools and middle schools across the nation have taken it upon themselves to make menstrual products free and accessible. 
Leslie told the BBC that Freedom4Girls would investigate a more long-term solution to the problem in the U.K.
"We need to give these girls dignity back," she said.