Who is RuPaul's husband? The private 'Drag Race' host marries longtime boyfriend.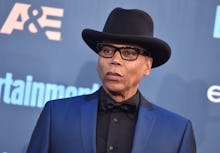 "Condragulations" are in order for RuPaul. The musician, actor, singer and legendary drag queen is married. 
During an appearance on Hollywood Today Live on Wednesday, the RuPaul's Drag Race host spilled the tea on his marriage to his partner of 23 years, Georges LeBar. 
When host Ross Mathews pressed the icon on whether he and his boyfriend would ever get married, RuPaul revealed they already are. 
"You know what? I don't think I've said this. I've never said this on television before. We are married. We are married, yes. This is scoop! I've never said it before," he said. 
RuPaul and Georges LeBar's relationship
It all began in 1994. The two met on the dance floor of the New York City club called Limelight and it's been a match made in heaven ever since. 
While we don't know much about his longtime partner, we know LeBar owns a ranch in Wyoming. RuPaul said that most of the time his partner is on his 6,000-acre ranch. "It's in two states. It's in South Dakota and Wyoming," he said. 
RuPaul is quite private and this news came as a surprise to fans and fellow celebrities. Other than the rare Instagram post of the couple, he likes to keep their relationship private. 
As a result of the big news, RuPaul received an outpouring of love on getting hitched. The Drag Race family showered him with congratulations:
RuPaul shared a touching thank you to everyone on Twitter on Wednesday and included a throwback picture of him and LeBar. We hope this was taken on the dance floor. 
Mic has ongoing Drag Race coverage. Please follow our main Drag Race hub here.