5 steps to a perfect, affordable work wardrobe: How to look professional without spending a fortune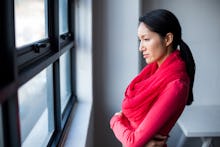 You've probably heard a lot of generic advice about how to dress for work, like dress for the job you want, or dress for success. But how are you supposed to put together a kickass professional wardrobe when you haven't yet climbed the corporate ladder — and don't have a big budget for designer duds? Never fear.
These guidelines will help you look professional without busting your budget. Here are five tips on building the perfect work wardrobe — for less.
1. Identify the basics
First things first: Buy core pieces. 
"If you're just getting started building your work wardrobe, pick a base neutral — black, gray, white or beige — and buy a full complement of things in that color: bag, flats, heels, boots, belt, blazer, washable pants, cardigan and skirt," Kat Griffin, founder and editor-in-chief of the work-fashion blog Corporette, told Mic via email. 
Key staples in men's work wardrobes could include dress shirts, ties, work slacks, dark and light polo shirts, several sweaters, a blazer or sports jacket, an overcoat, a pair of leather gloves and a nice pair of cuff links, according to Art of Manliness. If your workplace requires suits, you'll obviously need to invest in a few of those as well.
Anyone can mix it up for variation. "Pick one or two other colors for accents — light blue, red, whatever flatters your complexion and what you've already got in your closet — and start building a capsule wardrobe," Griffin said. "That way you'll know all of your purchases will match and go together."
Don't forget your feet. Look for shoes that match your outfits and don't hurt your feet. For women, professional shoes don't mean you need to jam your feet into heels. 
"I've seen some young professionals in pain in 4-inch heels they couldn't wear properly, so they'd end up wearing flip flops or something unprofessional around the office instead," Griffin said. Her advice: Start with a smaller or thicker heels or wedges and build up, or opt for flats. 
2. Buy high-quality, versatile pieces you can wear often
Look for clothes that will last for a long time, even if you have to spend a little more. To ensure clothes look good and last, consider the material.
"If fabrics are blended, make sure you have a high ratio of the natural fibers (such as cotton and wool) to synthetics," Sara Kozlowski, assistant professor at Parsons The New School for Design, told AOL. "If you're buying cotton, 100% is the best, but cotton can still be a great quality piece when blended with synthetics. Make sure there is at least 60% ratio of cotton to synthetics."
Other signs of good quality clothing: metal instead of plastic zippers, spare buttons, strong stitching and finished seams, according to the Balance.
Purchases should be versatile to get more bang for your buck. 
"I think most women will be served to have at least one or two classic sheath dresses," Griffin said. "They're a polished look with tights and booties or sleek pumps or flats, and they're very versatile... In winter months, wear a silky blouse or a thin turtleneck beneath it or just a warm, cozy cardigan or even a pullover sweater on top of it. You can accessorize with a belt, a statement necklace, a brooch, scarves and more."
Accessories can be important for men too, according to Art of Manliness. A nice watch still makes a statement, even with all of the electronic gadgets that tell time. Tie bars, tie tacks and tie clips are good ways to accessorize if you wear a tie to work and nice sunglasses can complete an outfit. 
When it comes to shoes, both men and women should buy comfortable classics. "Payless actually makes a very affordable line called Comfort Plus by Predictions," Griffin said. She said her readers swear by the line's Karmen pump, which she says is "a good option when money is tight." 
Men's Health has recommendations for comfortable men's dress shoes, including several options around $100 or less. 
Consider comfort and make sure every piece is appropriate. "Work clothes should be comfortable, and pretty modest until you know your office well — it's better to start with a skirt that's too long than one that shows too much thigh," advised Griffin. At the start, you want the focus to be on your words, your brain, your abilities in the job — not your fashion sense... unless you're working in fashion or another creative industry."  
3. Be smart about where you shop
Knowing when and where to buy makes a big difference: Don't just walk into a department store and pay full price. "Head to a discount retailer like Marshalls, Ross, TJ Maxx or Nordstrom Rack," the Muse said. "It'll take some scouring, but you're bound to find tops in a variety of styles in the $15 to $20 range." 
"Don't be afraid to venture into secondhand stores," according to MoneyCrashers. "Depending on the store's inventory, you can find expensive labels at Goodwill or Buffalo Exchange for a fraction of the original cost."
Finally, eBay is a great place to look for used and new items. Getting more value for your money and finding unique items, are top reasons Recovering Shopaholic suggests turning to eBay. 
4. Organize a clothing swap  
Clothing swap parties are a fun, free way to enhance your wardrobe. Everyone brings a bunch of duds from their closet and unwanted items are swapped for apparel that's a better fit. 
"If you're not opposed to a few extra houseguests, ask friends to spread the word to a stylish friend outside your circle to increase the pot and better everyone's chances of walking away with a good find," Oprah advises. 
Some friends may bring work clothes that didn't work out: Look for stylish sweaters, overcoats or accessories — which don't need to fit perfectly to make you look sharp. You can swap casualwear you don't need now that you're rocking your professional look.
5. Remember your lifestyle
When buying clothes, think about how you'll live with them over the long-term. 
"Dry clean-only labels require you to go to the dry cleaner at least once a quarter," Griffin said. "If that's going to be too much upkeep — either money or time — look for washable fabrics instead."
Other important suggestions from Griffin to make sure clothes work for you. "If ironing isn't your jam, don't buy a bunch of crisp dress shirts that need to be ironed regularly," Griffin said.
Your daily activities on the job and on your way to work can impact your outfits as well. A kindergarten teacher who's on the floor with kids all day is going to have very different professional clothes than someone in a high-pressure job meeting with clients. 
As far as how you get to work, "I'd also say beware the hem for your commute. If you're a fan of full-length trousers and plan to wear them with 3.5-inch heels at the office, but commute home in flip-flops, your pants are going to look horrible after a single trip home," warned Griffin.
By choosing clothes that fit your workday tasks, that are comfortable, and that are affordable, you can create an awesome work wardrobe that you'll be proud to dress up in every day. 
Sign up for The Payoff — your weekly crash course on how to live your best financial life. Additionally, for all your burning money questions, check out Mic's credit, savings, career, investing and health care hubs for more information — that pays off.