Before the inauguration, we asked for people's hopes and fears. Here's how they feel now.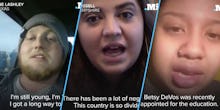 Just before President Donald Trump took office on Jan. 20, Mic reached out to Facebook users and asked for their hopes and fears on the eve of Trump's presidency. 
The results poured in. People shared everything from their hopes for a surging economy for small business owners to their fears that Trump's behavior would land the U.S. in a military conflict.
A month into Trump's presidency, Mic reached out again. We asked the same people to reflect on their feelings from before the inauguration.
Here's what they had to say:
Blaine Lashley, 25, Texas
John-Clayton Kropac, 25, Florida
Brandon Davis, 18, Virginia
Elizabeth Reyes, 27, Connecticut
Joe Rodriguez, 29, California
Joanna Russell, 29, New Hampshire
Dillon Bradley, 20, West Virginia
Anissa Zibo, New York