Washington woman attacked in bathroom slams group using her photo to back anti-trans law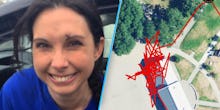 Earlier in March, Washington state resident Kelly Herron told a registered sex offender who allegedly attempted to sexually assault her in a public restroom, "Not today, motherf*cker!" This week, she's saying the same thing to anti-trans activists trying to use her story to pass a ballot measure limiting people's use of public facilities based on their gender identity. 
After Herron survived her assault by using self-defense tactics, locking her attacker in the bathroom and calling police, the group Just Want Privacy used her story without her permission to support ballot initiative 1552. Like North Carolina's infamous HB2, I-1552 wants public facilities to be separated by sex assigned at birth rather than by gender identity. 
When Herron found out her story was being used on promotional material issued by Just Want Privacy, she issued a statement. 
"To the people behind I-1552, I say 'not today, motherf*ckers,'" Herron said in a public statement captured by The Stranger. "I refuse to allow anyone to use me and my horrific sexual assault to cause harm and discrimination to others."
Herron told KIRO Radio's Diro Monson she was "done being polite" and "done being politically correct." 
"What they are doing is not correct," KIRO reported. "What that man did to me, was to me. It was him and me. We fought it out. There is no question about the wrongness of it... now my face is being used to raise money for discrimination... It's bull."
"I refuse to allow anyone to use me and my horrific sexual assault to cause harm and discrimination to others."
The group, Just Want Privacy, apologized on Tuesday on their Facebook page for using Herron's story without permission. The group said "the last thing we want to do is make anyone feel exploited." 
Just Want Privacy, which is in favor of I-1552, says that the initiative has nothing to do with transgender people. 
"It's incorrect in the sense that our campaign is anti-transgender," group member Triller Haver told KIRO. "We are for women's safety."
Haver expressed remorse at using Herron's story, saying she didn't know Herron would react in that way. 
"We used her story along with a couple other stories to highlight the importance of protecting women in their most vulnerable places," she said. "Her story is the story of hundreds, if not thousands, of women across the country who have had similar incidents happen. And we are having our protections stripped from us."
She added, "The reality remains that a grown man marched into a women's bathroom in broad daylight in the middle of a busy park and nobody stopped him." 
However, Herron does not see it that way. 
"I have transgender friends," Herron told KIRO. "I work with transgender people. They are people. They identify differently and I don't care where they use the bathroom. When I see a transgender person in the bathroom, we talk about lip gloss." 
If I-1552 passes, it would deny transgender students the right to use the restroom that matches their gender identity. In February, Trump lifted Obama's historic Title IX guidance that told public schools that transgender students should be allowed to use the gender-appropriate restroom. Though the Supreme Court was set to hear arguments for transgender 17-year-old Gavin Grimm's case to use the male restroom at his school, the justices sent the case back to the lower courts after Trump lifted the guidance. 
Mic has reached out to Herron and will update this story if we hear back.