'Truth and Lies: The Family Manson': When and where to watch the ABC documentary special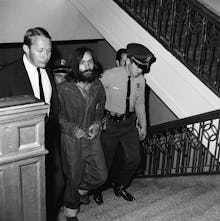 Sometimes the most chilling stories are the ones that are true. 
In early January, the ABC documentary special Truth and Lies: The Menendez Brothers, chronicled the trial of Lyle and Erik Menendez, who were accused of murdering their parents. Now, in a similar documentary special, ABC is set to explore the life of arguably the most notorious cult leader in modern history: Charles Manson. 
Truth and Lies: The Family Manson promises to show never-before-seen footage of the cult leader and his family, while exploring his role in the murder of actress Sharon Tate, in addition to his connections to the Beach Boys, the Beatles and Hollywood. 
The documentary is likely not going to be for the faint of heart, but for those interested in learning more about a man that is being described in the special as "the devil incarnate." Here is what you need to know so you do not miss a minute of Truth and Lies: The Family Manson.
When is the documentary?
Truth and Lies: The Family Manson is set to air on Friday, March 17 at 9 p.m. Eastern on ABC. As long as you have an active cable subscription, you can also catch the special on ABC's website, which will be streaming the documentary live. 
Mic has ongoing coverage of ABC television. Please follow our main ABC hub here.