What did Melania Trump wear her eighth week as first lady? Well, we have no idea.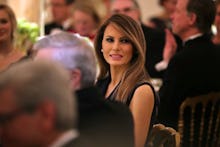 It's happened again — Melania Trump is missing. 
The last time we saw her was, ironically, International Women's Day, on March 8th, when she offered her first-ever White House speech to a room full of women. 
And now she's vanished. Just like that, she's gone. As of Friday afternoon, we've neither seen nor heard from her this week at all.
She's Gone Girl-ed us. 
As we found out the first time this happened, these disappearances make our job of painstakingly reporting what she wears every day a bit difficult, because we have no idea what she's been wearing, or even where she is. 
She could be in the White House or, more likely, at Trump Tower with Barron. Doing what, you ask? We have no idea about that either! 
Is this normal? Just like last time when it wasn't normal, it isn't this time either. If you look back at Michelle Obama's activities this same week eight years ago, in 2009, she was quite active. 
On March 12, 2009, she read The Cat in the Hat to the children of military families at Ft. Bragg. On March 17, 2009, she met with AmeriCorps members and toured an energy-efficient home. Then later that day she appeared with her husband at the annual St. Patrick's Day reception.
Of course, during this time Melania has been out of the spotlight, we're sure she's been doing stuff and wearing stuff. She probably wore a robe at home while coordinating her life as first lady, or maybe a nice set of pajamas. She likes Ralph Lauren a whole lot, so maybe she wore a Ralph Lauren dress while up there in Trump Tower. 
The problem is she did none of this publicly, choosing instead to live an exceedingly private life while holding an exceedingly public position. 
We just don't have a clue. Not even a tiny one. 
So here is what we'd love for her to have worn: We'd love for her to have worn a black designer, which she has yet to do as first lady. We'd also love for her to wear someone like Naeem Khan, who creates stunning, sparkly, glamorous dresses that are right up Trump's ally, and just happens to be an immigrant. 
At this point in her time as first lady, just two months in, it's time for her to make a statement. And maybe she already did — but we wouldn't know, because we have no idea where she is. 
You can see previous recaps of what Melania Trump wore here.