This Week in Reproductive Rights: CBO report shows consequences of Planned Parenthood cuts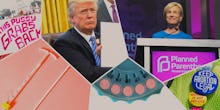 There's been a number of important news items about Planned Parenthood this week, but here's arguably the biggest: Monday's Congressional Budget Office report on the effects of the GOP's new health care bill predicts "several thousand" women on Medicaid will give birth to children they wouldn't have had otherwise as a result of Planned Parenthood cuts.
This potential spike in unintended births would be a direct result of 15% of people losing access to birth control and abortion under the GOP's legislation. 
Planned Parenthood serves some 2.5 million men and women every year, with 1 in 5 women having gone to a Planned Parenthood clinic at some point over her lifetime. What's more, 80% of those patients seek Planned Parenthood providers' care to prevent unintended pregnancies.
A recent study showed giving every woman access to birth control would result in 63% fewer unintended births and a 67% decline in abortions. Not to mention, it would save the country roughly $12 billion a year in health care costs. 
So if President Donald Trump's administration is looking to improve the lives of Americans and lessen health care's financial burden on the government, giving people access to reproductive services seems like a good place to start.
Here's the rest of what you might have missed this week:
• Texan hero and State Rep. Jessica Farrar made headlines this week with a satirical bill that would levy a $100 fine on men who waste their precious life-giving semen on frivolous extravaginal emissions — which is to say, masturbation. Point for point, the "Man's Right to Know Act" flips the legal maneuvers so often used to legislate women's bodies back on men to see how they like it. Surprise: Many of the conservative ones don't.
• On Tuesday, MPs in the U.K. voted to decriminalize abortion in England and Wales. Women there have legally been able to get abortions under the 1967 Abortion Act, but only if they met certain criteria that critics have said was too narrow. Women who don't meet it, they argued, would be committing crimes. The vote did not extend to Northern Ireland, where abortion remains illegal – and deeply controversial.
• A Kansas State Senator did not appreciate the recent Planned Parenthood donation a thoughtful constituent made in his name. In a curt letter he wrote to Planned Parenthood Great Plains, Steve Franklin asserted that the link was "as bad — or worse — as having one's name associated with Dachau." Planned Parenthood was understandably displeased with being compared to Nazi Germany's first death camp," but the senator's attention-grabbing language did have one positive, unintended effect: It catalyzed even more Planned Parenthood donations in his name.
• On Wednesday, Planned Parenthood announced the launch of an advertising campaign to simultaneously troll President Donald Trump and underline the lifesaving importance of breast cancer screenings. In partnership with the Cancer Survivors Network, the health care provider spent $1 million to televise commercials in New York City; Washington, D.C.; and West Palm Beach, Florida.
• Anti-abortion rights advocates have been gearing up for what they hope will be a mass shuttering of Planned Parenthoods across the country — but are they ready to deal with the consequences? All signs point to no. Anti-abortion organization the Heidi Group has spent the last eight months trying to bolster smaller clinics in Texas in an effort to replace Planned Parenthood — and, in essence, failed miserably. In that time, the group hasn't had any success in launching a 1-800 line for the clinics or even updating all of their websites. As Carol Everett, the group's head, aptly pointed out: "It's not as easy as it looks because we are not Planned Parenthood."
• A Northern Irish politician told the Independent on Monday that police had raided the homes and workplaces of some feminist activists — on International Women's Day no less — in search of abortion pills. The pills are illegal because, well, abortion is illegal in Northern Ireland save for when a pregnancy threatens a woman's life or wellbeing. "The lack of reproductive rights here in Northern Ireland means that women are criminalized and vilified," Clare Bailey, a deputy member of the legislative assembly, said.
• The Iowa Senate approved a 20-week abortion ban on Wednesday, putting it one step closer to joining the 16 other states that ban abortion before the legal limit at viability, around 24 weeks. The bill now goes to the House, where similar measures have recently failed.