Ahead of 'Iron Fist,' here are Marvel's most popular Netflix originals based on viewership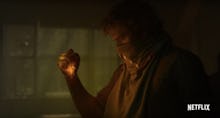 Remember when Netflix graced the world with their first original Marvel series, Daredevil, in 2015? The streaming service outdid themselves with the release of Jessica Jones later that year, then followed up with Luke Cage and Daredevil season two in 2016. Every release was like Christmas morning, a virtual present wrapped with a shiny, red Marvel bow.
Iron Fist is next on the list and is set to drop Friday. The newest addition to the Marvel universe has garnered some negative reviews, mostly because of its familiar riches-to-rags-then-back-to-riches story arc — but Marvel fans will still likely tune in to see Danny Rand in all his punching glory.
But will Iron Fist be watched as much its predecessors? We'll have to wait to find out, but until then, Jumpshot, a marketing analytics company, provided Mic with data about streaming popularity. Jumpshot captures vast amounts of clickstream data from their panel of more than 100 million devices across 188 countries, and they've used their data to discern Marvel's most popular Netflix originals. Here they are ranked from highest to lowest based on viewership within the first 24 hours of their release.
1. Daredevil season one
Daredevil was the Marvel series that started it all, and Netflix viewers couldn't wait to feast their eyes on it. Like, they literally couldn't wait. Within 24 hours of Daredevil season one coming out, 97.2% of Netflix users tuned in to see what the Devil of Hell's Kitchen was up to, according to Jumpshot's data. 
2. Daredevil season two
Apparently not satisfied with taking the win for the single most-watched Marvel series on Netflix within the first 24 hours after being released, Daredevil season two went ahead and took second place, losing only to itself. The second installment garnered views from 86.7% of the Netflix population the day it dropped, proving that one simply cannot get enough of Charlie Cox in a red leotard. 
3. Jessica Jones
Sliding into third place is Jessica Jones, with 78.7% of Netflixers tuning in within the first 24 hours of its release to see the superpowered, alcohol-drinking, profanity-loving private detective take on the diabolically sinister Kilgrave. 
4. Luke Cage
Coming in last place, unfortunately, is Luke Cage, with only 76.4% of Netflix users tuning in on day one to watch the hulked-out, bulletproof savior of Harlem battle against every gun-wielding crook within a 100-mile radius. Those who didn't watch Luke Cage missed out on some seriously impactful monologues and an epic soundtrack, as well some interesting new info on Seagate Prison — a location deeply rooted in the Marvel Cinematic Universe with ties to some of Iron Man's villains.
Mic has ongoing Netflix coverage. Please follow our main Netflix hub here.