Oklahoma City restaurant hangs transphobic sign: "We do not have a transgender bathroom"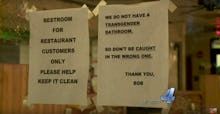 A sign threatening transgender people who use the bathroom that matches their gender identity is causing controversy in Oklahoma, local television station KFOR reported. 
Around 10 months ago, restaurant owner Bob Warner hung the following sign in the window of his restaurant, the Steak and Catfish Barn: "We do not have a transgender bathroom. So don't be caught in the wrong one. Thank you, Bob." 
Warner said the sign is a warning, not a threat. 
"We have a lot of redneck guys that come in here," Warner told KFOR. "Truck drivers and everything. They're big husky guys and I said, 'man alive!' If their wife or their little girl walked in that bathroom and a man followed them in there, I wouldn't have a restaurant." 
Transgender Oklahoma City residents see a different sentiment emanating from the sign. 
"I was disturbed," Paula Schonauer, a transgender woman, told KFOR. "It was really a let down." Schonauer said the last sentence of the letter scares her. 
"That sign has an implied threat and a threat that's very real to me," Schonauer said.
Troy Stevenson of Freedom Oklahoma told KFOR he also saw a threat in the sign. 
"You've got this sign implying a threat of potential violence against somebody for going to pee," Stevenson said. "That's not the Oklahoma standard. That's not what it means to be American. That's just wrong." 
Though at first Warner said that he wants to protect people's wives or little girls from hulking truckers, he then told KFOR that the sign is also meant to protect transgender people.
"I don't want to see nobody hurt," Warner said. 
Warner also told KFOR that transgender people could use his restaurant's bathroom, as long as they're dressed appropriately. He didn't clarify whether that meant someone must be dressed in a way that matches their gender assigned at birth. 
Transgender people's use of public restrooms has been a hot-button issue since North Carolina passed its controversial HB2. Since then, public accommodations for transgender people almost made it to the Supreme Court, though the court sent it back to a lower court to rethink its decision after President Donald Trump lifted former President Barack Obama's historic Title IX guidance.