This bipartisan Senate committee duo just destroyed Trump's wiretapping claim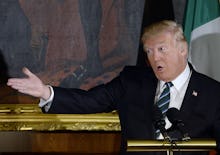 President Donald Trump's explosive accusation that former President Barack Obama ordered the wiretapping of Trump Tower during the campaign was dealt a death blow on Thursday by the Senate Intelligence Committee, which said there is no evidence whatsoever to back up that claim.
"Based on the information available to us, we see no indication that Trump Tower was the subject of surveillance by any element of the United States government either before or after Election Day 2016," Sens. Richard Burr (R-N.C.) and Mark Warner (D-Va.) said in joint press release.
Their statement comes a day after the House Intelligence Committee said there was no evidence that Trump Tower was wiretapped. 
House Intelligence Committee Chairman Devin Nunes (R-Calif.) said his committee was still looking into whether there were "other surveillance activities" taken on Trump or his "associates."
However the latest statement goes a step further, saying there was no "surveillance by any element of the United States government" on Trump Tower.
In recent days, top Trump officials sought to move the needle on Trump's March 4 wiretapping allegation, saying "wiretapping" was in quotation marks, and really meant any form of spying on Trump during the campaign.
"He doesn't really think that President Obama went up and tapped his phone personally," White House press secretary Sean Spicer said at a press briefing earlier this week, saying Trump was alluding to general surveillance tactics.
Trump himself made the same argument in a Wednesday night appearance on Tucker Carlson Tonight, telling the Fox News host that when he said wiretapping "those words were in quotes."
"That really covers surveillance and many other things," Trump said. "And nobody ever talks about the fact that it was in quotes, but thats a very important thing."
Trump added that "very interesting items" were going to come "to the forefront over the next two weeks" with regard to his wiretapping allegations.
The Senate Intelligence Committee's statement, however, suggests otherwise.