'Grey's Anatomy' Season 13, Episode 16 Recap: Could Japril be headed for a reconciliation?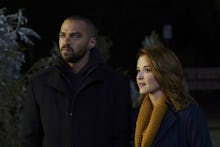 (Editor's note: This recap contains spoilers from season 13, episode 16 of Grey's Anatomy, "Who Is He (And What Is He to You)?")
In season 12 of Grey's Anatomy, an episode titled "Unbreak My Heart" focused on the characters of Jackson Avery and April Kepner. The hour jumped back and forth through time to tell the story of their relationship, beginning with the first time they met as surgical interns and ending with their untimely divorce. Fans dubbed it Japril: The Movie, and the installment helped cement the pair as one of the show's most popular — albeit unlikely — couples.  
Almost a year later, we're finally getting to see Japril: The Sequel, a much-hyped follow-up to season 12's memorable episode. 
This time around, Jackson and April fly to an Avery-owned hospital in Montana to perform a throat transplant on a young girl. Unsurprisingly, their plans hit a roadblock shortly after landing, when the doctor on the case reveals he hasn't yet asked the donor's father for permission to take his son's organs — on what would have been his 10th birthday, no less. 
What follows is a heartbreaking scene in the donor's room, where the dad is hoping Jackson and April have arrived to save his son, even asking when they think the boy might wake up. April tries to break the news gently, but he doesn't want to accept the truth — and when she inquires about the organ donation, the dad immediately refuses. That's when Jackson opens up about the death of Samuel, his first child with April, divulging how donating his own son's organs helped him find meaning in the face of unimaginable loss. Who can say no after hearing a story like that?
After getting consent, Jackson and April head to the patient's room to meet her mothers and talk about the transplant procedure. Understandably, Risa and Mary are worried about their daughter, Caroline, and want reassurances that the surgery will conserve her vocal cords. When Japril explain the risks to the procedure — namely, that any complications would result in a permanent tracheotomy and the loss of Caroline's ability to speak — the parents bristle at the idea. Much to April's chagrin, Jackson uses his fatherhood status to connect with Risa and Mary, letting them know he understands what it's like to be scared for your child. 
Gaining their trust quickly becomes a moot point, though. Later that night, April gets a call about a lesion on the donor patient's throat, which means the transplant is no longer a viable option. She suggests a laryngectomy as Caroline's best option, but Risa and Mary want to know what Jackson thinks. In panic mode, April tries in vain to reach her ex, who's on his fourth beer — and who knows how many scotches — at a seemingly random diner. When April finally tracks him down, she confronts him about getting drunk and neglecting their patient. An angry Jackson storms out, leaving her behind with the friendly bartender, who introduces himself as Robert Avery, Jackson's estranged father. 
The next morning, Jackson bangs on April's door, intent on finding a way to help Caroline. They head to the hospital to start brainstorming alternatives, but it soon devolves into a fight. Jackson won't tell April the real reason they're in Montana, and April is overly complimentary about Jackson's mother, Catherine, with whom Jackson hasn't exactly been getting along. They're interrupted by a page from Dr. Gordon, who has bad news: Caroline's parents are intent on transferring her to Baylor University Medical Center, where another doctor has proposed a different course of treatment. 
Knowing his patient won't survive being moved and wanting to keep her there, Jackson breaks a cardinal rule of surgery and claims he has an idea to save her voice, pleading with the parents to give him more time. Risa and Mary say he has until 3 p.m. the next day, when they'll be on a plane to Baylor. 
Outside the hospital, Jackson confesses he lied — he doesn't have an idea. It's the breaking point for April, who finally asks why he didn't tell her about finding his dad. "We are only here because of your father, and that kid is gonna die," she spits. 
Back at the hotel, Japril is all smiles while talking to baby Harriet on FaceTime, but those smiles turn to frowns the minute the call ends. Jackson finally admits that he expected his father to realize who he was, but all he got was a "You good?"
"He looked me right in the eye and didn't know his own son," he says. "So make him know you," April responds, convincing him to return to the diner and confront his long-lost dad. 
Upon their arrival, Robert comes outside and tells Jackson they're closed, but invites him to come in anyway. They're barely through the door when Jackson blurts out his real identity. His father seems ecstatic — and surprised — to see him, and immediately starts asking his son all sorts of questions about his life. Jackson's polite at first, though it's obvious the conversation is killing him. What can you say to a parent who abandoned you as a child? He finally draws the line when Robert starts reminiscing about the first time he met Catherine, abruptly getting up to leave after telling his father he doesn't know him. 
The next day, Jackson and April are discussing Caroline's surgical options as he reveals bits and pieces of what happened at the diner. Suddenly, Jackson strikes gold and pitches what sounds like a gruesome idea: "We can use her own guts for her own throat." What he really means is they can harvest the hairlines on Caroline's intestines to create a new valve for her voice box, hopefully giving her the ability to speak again once they remove her throat tumor. It's never been done before, but Jackson thinks it could work. 
Grey's never shies away from telling stories about failed surgeries, even in the most heartbreaking of circumstances, so I was definitely nervous for Caroline when the surgery began. But when Mary J. Blige's "Doubt" began to play as Jackson made the first cut, I knew everything was going to be OK. Caroline makes it out of surgery alive, though they won't know for a few hours whether the procedure saved her voice. 
Riding high as they return to the hotel, Jackson and April are about to retreat to their separate rooms for some much-needed sleep when they start gazing at each other with that look. You know the look, don't you? They start inching closer until Jackson pulls his ex-wife in for a kiss, picks her up and carries her to bed. Be still, my beating heart!
They're cuddling the next morning when Jackson realizes his mother sent April to Montana with him because she knew he would seek out his father. Catherine wanted April to be there for her son. Say it with me now: Aww! After telling Jackson what a good father he is, April once again encourages him to say what he needs to say to his own father before they go home to Seattle.
In one final scene with Robert, Jackson tells him about Harriet but quickly corrects him when he says, "I'm a grandfather."
"No, no you're not," Jackson replies. "You seem like a decent guy, but you're not a grandfather. You're not my father." He's glad to have met Robert, but they won't be seeing each other again. And with that, Jackson walks outside into the sunshine after getting the closure he's needed for so long.
Oh, and Caroline? She successfully squeaks out a "Hi, momma," proving Japril accomplished a miracle together. Could this be the ticket to their long-awaited reconciliation? Only time will tell. 
Grey's Anatomy airs on ABC at 8 p.m. Eastern on Thursdays.
Mic has ongoing Grey's Anatomy coverage. Please follow our main Grey's Anatomy hub here.