#GrabYourWallet adds Chrome extension to make avoiding Trump brands even easier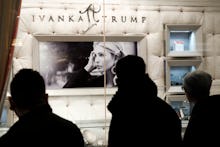 Since launching in October, Shannon Coulter has kept a meticulous list of companies to avoid and companies to shop on her #GrabYourWallet website, which aims to use consumer dollars to pressure stores to drop Trump brands. Every few hours, she makes an adjustment.
An example of just how painstaking it's gotten is this: Since early February, Neiman Marcus was a site you could shop, because they had seemingly dropped the Ivanka Trump brand from its website. But then, on March 9, her stuff reappeared. Now? It's gone again. 
As of writing, 22 companies have dropped Trump brands, while 55 remain on the #GrabYourWallet boycott list. But by the time this story is published, that could change. 
This campaign has turned into a nearly full-time job for Coulter, so now to make things easier on her followers, who track movements on the #GrabYourWallet spreadsheet like hawks, there's now a Chrome extension. 
On Wednesday, Coulter announced the launch of an official #GrabYourWallet Chrome plug-in, which syncs with the official boycott list Coulter maintains and alerts you whenever you go to a site that is on the boycott list.
"There have been so many requests for a #GrabYourWallet Chrome extension, but because the boycott list is now changing several times a day, we wanted to make sure whatever we released was something that would sync in real time with it," Coulter said in an email. 
According to Coulter, although there have been several apps and plug-ins, like Don't Pay Trump, that aim to alert shoppers of a site's Trump affiliation too, none of them were as reliable or updated as Coulter wanted them to be.
So to make things easier for Coulter's supporters, this extension is synced with her own list, so the second that a store is added or removed from the boycott list, the extension knows. 
It's not like it prevents you from shopping at these stores — it just alerts you, with a pop-up like this one below coming up whenever you'd go to a site like Amazon or Macy's or Dillards, which still carry Trump products. 
Given that Coulter credits #GrabYourWallet's speed and accuracy for its success, this felt like a necessary step. 
And if you're doubting whether or not #GrabYourWallet has really affected anything thus far, the plug-in's launch coincided with a report from ThredUp.com that noted a so-called Ivanka Trump "purge surge," where the number of people discarding Ivanka Trump products through ThredUp skyrocketed 223% from last year. 
As Coulter noted in a previous interview with Mic, with momentum only growing, there's just no stopping now. "I feel like I can't back down," she said. "It's not in me. I won't allow myself."