15 of Drake's catchiest and most relatable lyrics about life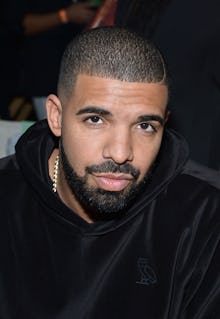 Drake is a multi-millionaire, but his music has a way of making the average listener still feel they can relate to him. Since his So Far Gone mixtape brought him fame in 2009, Drake has given a massive audience lyrics for all moods: heartbreak, paranoia, the day-to-day hustle and bustle, frenemies, fake deepness and pettiness. It's likely that some of his lines have been the caption, social media status or text that you've sent at some point and there's nothing to be ashamed about. Drake is one of us, a proud spokesman for the overly sharing and often gray area obsessive millennial generation. 
On Saturday, the rapper is releasing his latest project, the More Life playlist, and he promises the music will live up to its theme. Fans are surely hoping for new standout verses to add to their Drake bible. Until we get More Life, here are 15 of Dizzy's most catchiest and relatable lyrics ever. Lyrics via Genius. 
1. "We live in a generation of not being in love and not being together/ But we sure make it feel like we're together" 
— "Doing It Wrong" 
Here Drake calls out situationships, and the headaches they can be, as he's gone through some of his own.
2. "You know you gotta stick by me/ Soon as you see the text, reply me" 
— "One Dance"
Drake honestly needs to show a little bit more patience in his texting game. Even he doesn't like being ignored or left hanging.
3. "Pray the real live forever, man/ Pray the fakes get exposed" 
—"Know Yourself" 
This prophetic lyric is clearly what we all feel about the people surrounding us in our lives. 
4. "No new friends, nigga, we don't feel that/ Fuck a fake friend, where your real friends at?" 
— "Started from the Bottom" 
Drake has issues with handing out the friendship title to just anyone. Discerning who's in your circle is a common issue that everyone faces. However, we'd like to add that new friendships can be good too. 
5. "All I know if I die, I'mma muthafuckin' legend/ It's too late for my city/ I'm the youngest nigga reppin" 
—  "Legend" 
Everyone should feel like legends making their city proud no matter where they're from. This is the ultimate YOLO self-motivational moment. 
6. "My license been expired I renew it after the weekend/ Fuck I know I said that shit the last seven weekends" 
— "Connect"
Even Drake has issues with procrastination. And in this song, forgetting to do a simple task might just cause him more problems. Such is life.
7. "Somewhere between psychotic and iconic/ Somewhere between I want it and I got it" 
— "Further Thing" 
Whether working on that college degree, getting a dream job, business or relationship, the hustle to a better life is always on the forefront of many adults minds in their 20s and 30s. Once again, Drake is vulnerable in sharing this.
8. "Sweatpants, hair tied, chilling with no makeup, that's when you're the prettiest hope that you don't take it wrong" 
— "Best I Ever Had"
Drake is like any other person who is really into someone and can still see the beauty when they're in their most laid back moments. 
9. "And this is the only sound you should fear/ Man, these kids wear crowns over here and everything is alright" 
— "Shot for Me"
Drake is once again establishing his self-worth and proudly walks in it.
10. "I live for the nights that I can't remember with the people that I won't forget/ Spending all the money that I just worked my ass off for doing things that I won't regret" 
— "Show Me a Good Time"
This line can take anyone back to the special times they've had with friends and family. Drake lives to make these priceless memories happen. 
11. "And you don't do it for the man, men never notice/ You just do it for yourself you're the fucking coldest" 
— "Fancy" feat. Swizz Beatz & T.I.
On "Fancy," Drake gets some cool points for making an anthem dedicated to women who are focused on their own grinds. They're flawless whether with or without men and Drizzy is simply admiring it.
12. "I just take my time with all this shit, I still believe in that/ I had someone tell me I fell off, ooh, I needed that" 
— "Headlines"
As popular as Drake is, he still takes constructive criticism. While celebs look perfect from the outside, he let's us know he doesn't let the fame go so far to his head that he can't make adjustments.
13. "I'm Harlem shaking through the pressure/ I might put Diddy on my next shit" 
— "Digital Dash"
This funny line is using the original Harlem shake, which Diddy popularized in music videos, as a metaphor for how to survive when it gets tough.
14. "I want to take it deeper than money, pussy, vacation/ And influence a generation that's lacking in patience"  
— "From Time" 
Drake sees our generation is lacking authentic connections, and as he reflects, he decides he wants to lead by example in his own relationships.
15. "Yeah, trigger fingers turn to twitter fingers/ Yeah, you gettin' bodied by a singin' nigga"
— "Back to Back" 
The infamous line calls out Meek Mill who made accusations against Drake on Twitter which led to their famous rap beef in 2015. Drake is also criticizing the fact that Mill took his frustrations out online instead of addressing him in real life, a downfall in the age of social media that has lost folks jobs, relationships and ruined reputations.
Mic has ongoing Drake coverage. Please follow our Drake hub here.