Paul Ryan celebrated St. Patrick's Day with a pitiful pint, and Irish Twitter went bananas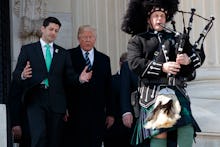 "Bring it right to the rim," the narrator of a short video at the Guinness website says with — what else — a thick brogue. "No spills. And that's pretty much a perfect pint of Guinness." You don't have to grow up in Ireland to know that's how you do it — that the creamy, thick head of the dark, Irish beer should be up to the top of the glass — but that basic lesson was evidently lost on House Speaker Paul Ryan (R-Wisc.), or whichever hapless subordinate poured him a pint on Thursday. 
Ryan had gathered with President Donald Trump, Vice President Mike Pence and Irish Taoiseach Enda Kenny on the eve of St. Patrick's Day. At the luncheon, Ryan — whose father is of Irish extraction — gave a few remarks and hoisted a pint of Guinness.
But there was one problem: This was the saddest pint of Guinness it seems anyone in Ireland had ever seen.
This was not lost on Irish journalist Naomi O'Leary, who posted a picture of the sad pint on Twitter. "First Mike Pence says 'top of the morning,' then Paul Ryan holds up this appalling pint," O'Leary wrote.
Nor was the sad appearance of Ryan's Guinness lost on O'Leary's followers:
And it goes on and on. 
Correction: March 17, 2017