Sean Spicer actually read damning Trump stories out loud to prove the wiretapping claims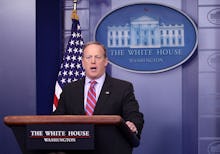 White House press secretary Sean Spicer's press briefing went completely off the rails Thursday as Spicer sought to defend President Donald Trump's debunked "wiretapping" claims, going as far as to read damning news stories about Trump's possible Russia connections in order to try and prove the wiretapping allegations are true.
The articles Spicer read included reports that the FBI was looking into top Trump campaign aides and their possible ties to Russia during the presidential campaign.
The bizarre defense came shortly after the bipartisan leadership of the Senate Intelligence Committee announced there was no proof of "surveillance by any element of the United States government either before or after Election Day 2016."
Still, Spicer did not back down from Trump's claim that former President Barack Obama wiretapped Trump Tower during the campaign, saying the president "stands by" his wiretapping allegations.
FBI Director James Comey is expected to debunk the claims on Monday during a hearing on Capitol Hill, CNN reported just prior to Spicer's briefing.
That makes Spicer's decision to defend Trump's claims so fervently, especially by reading damning stories about Trump's possible Russian ties, even more confounding.
Matthew Miller, a former Justice Department spokesman under Obama, tweeted about Spicer's unorthodox approach.
"Not every day you see a press secretary going to such lengths to argue his boss is the subject of an FBI investigation," Miller tweeted.