Trump budget director says food aid programs for kids, elderly not showing "results"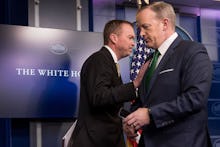 White House Budget Director Mick Mulvaney defended proposed cuts to food-aid programs Thursday by arguing that there's scant proof they really work.
Mulvaney sparked accusations of callousness and hypocrisy in his defense of President Donald Trump's proposed $1.15 trillion budget when he said after-school programs that feed hungry kids don't have proven impact.
"They're supposed to help kids who don't get fed at home get fed so they do better at school," Mulvaney told reporters at the daily White House press briefing.
"Guess what? There's no demonstrable evidence they're actually doing that," he said. "There's no demonstrable evidence they're actually helping results, they're actually helping kids do better in school."
The director was similarly bullish on Meals on Wheels, which feeds the homebound elderly and infirm through Community Development Block Grants awarded by the federal Housing and Urban Development department to the states.
"The CDBG's have been identified as programs since, I believe, the second Bush administration as ones that were just not showing any results," Mulvaney said. 
He continued:
"We can't do that anymore. We can't spend money on programs just because they sound good. And great — Meals on Wheels sounds great. Again, that's a state decision to fund that particular portion of it. I can't defend that anymore. We cannot defend that anymore. We're $20 trillion in debt. We're going to spend money. We're going to spend a lot of money. But we're not going to spend it on programs that cannot show that they actually deliver the promises that we've made to people."
Citing the Meals on Wheels organization, CNN reported Thursday that "roughly one in six senior citizens in the country struggles with hunger, and the organization served 219.4 million meals in 2015."
The proposed Trump budget, as the New York Times noted, would slash spending on before- and after-school programs, along with summer programs, while including "a $1.4 billion increase for public and private school choice programs."
People on Twitter lit up in rage after Mulvaney's remarks, which included promises that the administration would "absolutely" make good on its promises to cut funding to the United Nations and foreign aid programs.
Much of the anger focused on the contrast between Trump's famously lavish lifestyle and his plans to curb spending that helps the poor.
"We can't ask the public to pay for Meals on Wheels, after-school programs that provide food to poor kids, or WIC," one tweet said as a caption to a photo of the Trumps sitting down to a luxurious meal.
Twitter lit up with harsh critiques of the proposal:
"To whoever decided cutting the programs that feed children after school was a good idea, you know you're a monster right?" demanded one critic.
From his @POTUS account on Twitter, Trump took a different view of the budget Thursday afternoon, linking followers to the budget blueprint with a vow: "We will rebuild our MILITARY. We will keep our people SAFE. We will take care of our VETS. We will put #AmericaFirst."
Correction: March 17, 2017