These Trump loyalists won't let go of the president's wiretapping story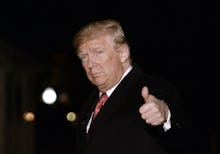 The Senate Intelligence Committee says there's no evidence to back up President Donald Trump's claim that he was wiretapped by his predecessor, but some of his loyalists are saying not so fast.
The bipartisan committee reported Thursday that it had no proof to back up the president's startling allegation that Trump Tower was bugged during the 2016 campaign.
But White House press secretary Sean Spicer mounted a roaring defense of the accusation — and three men who helped catapult Trump from that Manhattan skyscraper to the Oval Office said in separate interviews that the president's claim can't be dismissed yet.
"It seems impossible that press stories of FISA filings with specific dates plus the shopping of transcripts of some calls can be congruent with a flat denial," Barry Bennett, a former top Trump campaign strategist who previously ran Ben Carson's bid for the presidency, told Mic.
The filings Bennett mentioned are the Foreign Intelligence Service Act (FISA) warrants obtained to conduct government surveillance operations such as the one Trump claims targeted him.
"The easy explanation is a web of false reporting, but I have been in Washington long enough to know the easy explanation is not always the true one," Bennett, who now works with Trump's ex-campaign manager, Corey Lewandowski, said in a text message exchange.
"Once again we have more questions than answers. Either way, President Trump is the victim."
In saying Trump stands by his claims about being under surveillance, Spicer took the interesting approach of reading aloud from news reports detailing the Trump campaign's potential ties to Russia.
Michael Caputo, another former Trump campaign official, similarly advised against a rush to judgment.
"Like many Americans, I'm waiting to hear from the president," Caputo, who has long mocked the notion of Trump-Russia ties, said in an exchange of direct messages with Mic. 
"One thing is crystal clear: you don't have to look far for similar episodes," Caputo added of Trump's surveillance claims. 
He cited the case of James Rosen, the Fox News reporter who came under a highly controversial 2013 federal investigation of classified information leaks. (Rosen's emails were scanned, according to the New York Times, but he said he was not wiretapped.)
Longtime Trump political guru Roger Stone said Trump should stick to his contentions in a phone interview Wednesday and follow-up Thursday via text message.
Stone, who this week was a passenger in a hit-and-run accident that he claimed may have been "deliberate," has a theory as to why no evidence of Trump surveillance has easily come to light: "The Brits conducted the surveillance" to give America plausible deniability, he told Mic, and "the Senate committee is abetting the deep-state cover-up."
Stone either quit or was fired from the oft-turbulent Trump campaign in 2015, but he has remained a staunch defender of the president. He has called questions about his own alleged ties to Russia a "witch hunt."
"Look, I think they definitely had Trump under surveillance. I think that their rationale for doing so was this idea that 'We had to. We had to look at him because he was in touch with the Russians,'" he said. "Now the whole in-touch-with-the-Russians thing is falling apart, leaving them no rationale for having put the Republican candidate for president under surveillance."
Stone advised Trump to order the Justice Department to have a grand jury examine "both the alleged Russian collusion in his campaign and the question of whether he was under surveillance" — and make top Obama administration figures testify. 
"Far harder to lie when under the pain of perjury," he said.
Trump, of course, has many within his own Republican Party saying he should drop the surveillance storyline posthaste.
"Air quotes won't change the plain meaning of words or the fact that there is no evidence, real or imagined, that supports the president's tweet," former GOP Chairman Michael Steele said via email Thursday evening.
Rick Tyler, a former top aide to Trump's GOP primary arch-rival Ted Cruz, had an even sharper reaction.
"Two choices: Continue to day-trade his political capital and risk a margin call on his credibility. Or walk it back," Tyler texted when asked about Trump. "Given his history as a charter birther member, I think he sticks with his absurd and delusional claim."