'EA Sports UFC 3' Release Wishlist: 5 features it needs to add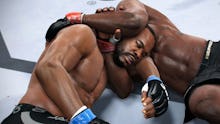 EA Sports UFC 3 is on the way, though we don't have a set release date yet. EA Sports UFC 2 had its share of solid attributes in graphics and presentation, but there was obvious room for improvement in more than one area.
These five key suggestions would help to ensure that UFC 3 is an improvement over its predecessor. We just hope EA is listening to us.
EA Sports UFC 3 wish list: Online Knockout mode
Let's face it, many mixed martial arts gamers are only interested in stand-up brawls. Knockout mode offers that demographic everything they want.
There is no grappling and the knockouts are often spectacular. Here's the only issue: it's only offline.
This mode would be amazing if it were taken online.
EA Sports UFC 3 wish list: Different skill and control lobbies online
The submission system is the most difficult aspect of any MMA video game. What's too complicated and what's too simplistic for such a complex aspect of the sport?
Balancing that dynamic is tough. EA UFC 2 did a decent job, but many gamers still ignored or dreaded the ground game.
You have to have a reward for gamers who put in the work to become experts on the ground, but perhaps those gamers should have a difficulty setting or an online room where others who are likeminded can compete against each other.
EA Sports Fight Night Round 3 used to have analog-control-only rooms for online competition, and others for the gamers who wanted to use the buttons to compete.
Maybe it's time EA UFC introduced a scaled-back submission system that gamers who don't necessarily want to play KO Mode, but who also aren't willing to make themselves virtual Eddie Bravos on the ground.
EA Sports UFC 3 should add a hardcore difficulty setting online for the supremely skilled grapplers, and a casual room for those who aren't on that level. Also, the hardcore room should have more realistic damage. As of now, fighters take too many flush shots before being knocked out. The hardcore room would be the most realistic version of the game. The alternative would offer a more arcade experience.
EA Sports UFC 3 wish list: Logical judging criteria
The judging criteria was difficult to figure in EA UFC 2. There were times I'd swear I got the best of an opponent or vice versa, but the decision would go the other way.
I'd scan the fight stats and I still couldn't understand the decision.
If EA UFC hopes to potentially become an eSports title, they will have to offer more rhyme and reason behind the decisions on fights that go the distance.
EA Sports UFC 3 wish list: Deeper career mode
The career modes in all EA Sports UFC games have been pretty shallow. There's so much that can be done with a career mode based on the UFC because it's obvious the powers that be have an edgier product than most of the other major sports organizations.
The next version of the game needs to have a storyline, out-of-the-Octagon issues and more.
EA Sports UFC 3 wish list: Fighter-focused ultimate team
Ultimate Team in EA UFC 2 was the worst example of the card-collecting concept mode ever created.
Instead of opening packs and purchasing coins to unlock and collect real fighters, gamers were instead "rewarded" with moves and attribute boosts.
That's no fun.
Imagine what it would be like to open a pack and find a 99-rated UFC 206 version of Conor McGregor, or a 97-rated UFC 189 Robbie Lawler.
That would get people hyped and hungry for pack openings. 
There would obviously still be weight classes, but you would start off with a low-rated fighter in every division.
The challenge would be to acquire a beast in every weight class whose fighting style matches the way you approach the game. With this structure, EA could better capitalize on the card-collecting concept in an MMA title.
More sports gaming news and updates
Are you a sports gamer? Check out more content from Mic, including news on tips on leveling up your NBA 2K17 MyPlayer, playing quarterback in Madden 17, the latest information on MLB The Show 17 and the classic Nintendo sports games we want to see on the Switch.