Japan holds first evacuation drill amid fears over North Korea's ballistic missiles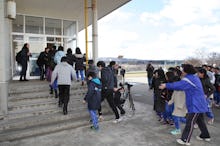 On Friday, sirens sounded and children ran for cover in Japan as citizens conducted their first evacuation drill amid fears over ballistic missile-armed North Korea, Reuters reports.
Residents in Oga, the rural fishing town where the exercise was conducted, have reason for concern: The exercise comes just over a week after North Korea fired four intermediate-range missiles into the Sea of Japan. One of the rockets landed just 124 miles off the coast of Oga.
Hunched-over schoolchildren made their way to a gymnasium, and other residents donned protective gear as they made their way to a designated evacuation center, emergency kits in tow.
"The missile is seen to have landed within a 20-kilometer [12-mile] boundary west of the Oga peninsula," a loudspeaker announced during the drill, according to Reuters. "The government is currently examining the damage."
The practice evacuation was conducted on the same day that United States Secretary of State Rex Tillerson announced during a press conference with Seoul that when it comes to North Korea, "all options are on the table."
"Certainly we do not want for things to get to a military conflict ... but obviously if North Korea takes actions that threaten the South Korean forces or our own forces, then that would be met with an appropriate response," Tillerson said.
The comments were an escalation in language used by the U.S., which has long been reticent to use military force against North Korea for fear that the country will attack its peaceful neighbor to the south in retribution. 
But with the Hermit Kingdom's repeated refusals to abandon its nuclear weapons program, diplomacy between North Korea and its neighbors in the region remains untenable, Osamu Saito, a security supervisor in the prefecture of Akita where Oga is located, told Reuters.
"Anything can happen these days, and it's even more true when we cannot anticipate the behavior of our neighboring countries," he said.