New York City EMT killed by man driving stolen ambulance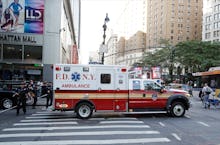 An emergency medical technician was killed in the Bronx on Thursday after a man ran her over with her own stolen ambulance, WABC, a local ABC News affiliate, reported Friday.
Yadira Arroyo, the emergency worker killed Thursday, and her partner were responding to a call when a passerby alerted the pair to a person riding on their ambulance's back bumper, according to the New York Times. The emergency worker in the passenger seat got out of the ambulance first, followed by Arroyo, to confront the man, ABC reported. According to the Times, the man started to walk away, turned back around, and managed to get into the driver's seat of the ambulance.
Arroyo reportedly grabbed onto the ambulance and was dragged. She was killed when the suspect put the vehicle in reverse and ran over her. The second emergency medical worker was also struck, but sustained minor injuries.
During a press conference Thursday, New York City Mayor Bill de Blasio said that Arroyo was a 44-year-old mother of five and a 14-year veteran of the New York Fire Department, according to PIX 11.
Jose Gonzalez, 25, was arrested and has been charged with murder, grand larceny and operating a motor vehicle while impaired by drugs. ABC reported that Gonzalez is "emotionally disturbed" and has had "numerous" interactions with the police, according to the New York City Police Department.
While being escorted by police from the 43rd Precinct early Friday, Gonzalez said, "I'm innocent. I didn't do nothing. I'm innocent," ABC reported.
The altercation occurred around 7 p.m. at White Plains Road and Watson Avenue in the Morris Park neighborhood of the Bronx in New York City.