U.S. Military denies targeting Syrian mosque in airstrike that may have killed civilians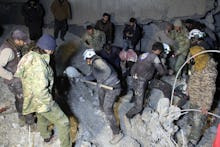 The United States military is denying having deliberately targeted a Syrian mosque in an airstrike attack on Thursday, amid outcry from humanitarian groups who say that scores of civilians are dead.
According to the New York Times, Col. John J. Thomas, a spokesman for the U.S. Central Command, patently denied that a mosque had even been hit by American artillery, insisting that the planned airstrike against al-Qaida operatives had been carried out successfully and that a number of militants had been killed.
"What we did target was destroyed. There is a mosque within 50 feet of that building that is still standing," he said.
But local activist Mohamed al Shaghel told the Times that those who were struck had "no affiliation with any military faction or any political side."
"I passed by the hospital, I was told that about 50 were killed and 50 wounded," he said. "Rescuers are still looking for bodies under the rubble."
In a Friday morning tweet, the Syrian Observatory for Human Rights labeled the attack a "massacre," and said that the number of casualties had risen to 46.
Al Jazeera reports that the mosque, located in the western countryside of Aleppo, was struck during the evening prayer when the building was full of worshipers. According to local activists, at least 300 people were inside the mosque at the time of the raid.