Raleigh fire: Latest updates on the 5-alarm fire in Raleigh, North Carolina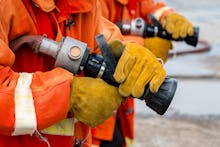 A five-alarm fire broke out at an apartment building under construction in Raleigh, North Carolina, around 10 p.m. Thursday night, NBC affiliate WITN reports. The fire caused severe damage to five other buildings and affected 10 buildings overall.
According to WNCN, Raleigh Fire Division Chief John Fanning reported only one injury: a first responder who suffered a non-life threatening puncture wound to the chest due to falling glass. 
Fanning told reporters that in his 24 years of experience, "this is the largest fire I've ever seen in such a condensed area," according to video published by ABC.
The fire started at the Metropolitan, a six-story apartment complex under construction at the intersection of West Jones and North Harrington. It appeared to be to be under control by 1 a.m. Friday morning, but officials have urged people to avoid the downtown Raleigh area. Firefighters are still working to control hot spots and avoid rekindling and smoke is expected to linger for days, ABC reported.
"Usually a rekindle is worse than the original start," Fanning told reporters.
According to officials who spoke with WITN, the fire spread as quickly and intensely as it did because of raw construction materials combined with a lack of interior furnishings at the complex.
Jeff Woodward, a resident of a nearby apartment, told WRAL, "It's incredible the amount of buildings that are burning over there." 
"There's cars exploding up in the parking deck that are burning," Woodward said. "I've never seen anything like this before."
Investigators have not yet looked into the cause of the fire that broke out at the Metropolitan. They expect to be able to access the building and begin their investigation by midday Friday, WRAL reported.
Roads near where the fire broke out remained closed Friday morning, according to WNCN.