Donald Trump allegedly kicked One Direction out of hotel for this absurd reason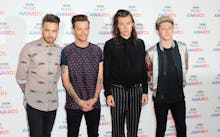 Liam Payne of One Direction claims that the band was once kicked out of Donald Trump's New York City hotel — just because they wouldn't meet his daughter.
Yes, this is really a thing.
"You wouldn't believe it," Payne told UK fashion magazine Rollacoaster in their upcoming issue (via New Musical Express). "It was about [meeting] his daughter. He phoned up our manager and we were asleep."
According to Payne, the band's manager refused to wake them up. Trump reportedly retaliated by not allowing them to use the hotel's underground garage. 
"Obviously in New York we can't really go outside. New York is ruthless for us."
Ultimately, Trump reportedly told the group that "I don't want you in my hotel." Payne said that they ended up leaving. 
Payne didn't elaborate on when this incident occurred or which of Trump's daughters — Ivanka or Tiffany — wanted the meet and greet with the boy band. We can assume that the events happened before the group went on hiatus in March 2016.
Donald Trump has yet to respond to Payne on Twitter, although he did use the social media site to respond to Snoop Dogg's "Lavender" music video. In the video, Snoop Dogg pretends to shoot a Donald Trump clown impersonator with a fake gun.
Mic has ongoing One Direction coverage. Check out our main One Direction hub here.