This 13-year-old girl was afraid of getting dress-coded — so her sister took action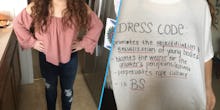 All 13-year-old Kansas native Grace Villegas wanted to do was wear a new shirt to school that she had proudly purchased with her own money at Charlotte Russe. It was pink and cropped, with long, loose, off-the-shoulder sleeves.
And you already know what's coming, don't you? 
Although no teacher spoke to her directly about the shirt, she got those looks — the kind of looks where you know trouble is coming. Despite Villegas's shirt not revealing any cleavage or stomach or really anything but shoulders, she felt that if she continued to wear it, she'd get dress-coded. 
"I went into school and I received some looks from teachers, just not nice looks," Grace Villegas told BuzzFeed. "Instantly I was like — okay, I'm going to get dress-coded and I felt the need to change."
So Villegas changed into a T-shirt. But when her 18-year-old sister, Isabella, heard about it, Isabella decided to take this situation as an opportunity to call out just how sexist dress codes are. 
Her sister's shirt, after all, wasn't revealing anything scandalous. 
Isabella Villegas ended up taking a white T-shirt, got a black permanent marker and wrote the following in big letters: 
Dress code: 
"When she told me everything that happened I was super angry," Isabella Villegas said in an interview with Mic. "I have always had beef with dress codes and the way it was handled with my sister was the last straw. So I decided to make the T-shirt with the purpose of making a statement. What happened and my opinion about dress codes goes much deeper than what I wrote on the T-shirt, but the purpose was to get people's attention drawn to what happened, because it was wrong." 
Isabella ended up writing about the experience on Twitter too, tweeting to her more than 2,000 followers: "My 13-year-old sister was dress-coded for her shirt today for 'revealing too much chest and shoulder' so I made her a shirt to change into." 
So far, the tweet has gotten more than 2,000 likes and nearly 1,000 retweets. 
"Are you selling these on Etsy yet??" one commenter wrote. 
Another wrote, "I'll take 20," and another, "If you started printing shirts with this on it, I'd for real buy one." 
One of the reasons why Isabella and Grace's story has appealed to so many is people are growing increasingly sick of the same kinds of dress codes in schools across the country that pay far more attention to what the girls wear than the boys. In recent years, those policies have come under fire for their own double standards, and there have been plenty of cases of girls reprimanded for wearing outfits that seem wholly appropriate, like this girl or this girl. 
More and more students, like Isabella, have also started standing up to the rules by publicly calling out dress code policies. In September 2015, students at a high school in South Carolina recalled The Scarlet Letter and showed up wearing red As to protest the dress code. In December 2015, a girl in Oklahoma wore a shirt quite similar to Isabella's. 
"I knew my 2,000 followers would see it and a couple of my friends would RT it but I had no idea it would get this big," Isabella said. "The support we have received for it has been awesome. I love how many women and men have been backing us up and encouraging my sister and I. ... The way my sister's situation was handled was wrong and we wanted to make a statement. Yes, it was overdramatic and I don't believe dress code should be abolished or just left to teachers discretion, but I do believe many aspects of it are wrong. No, I don't have a solution, but we wanted to speak out on something we thought was wrong."