Florida governor pulls Aramis Ayala off case after she refuses to pursue the death penalty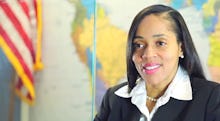 Florida Gov. Rick Scott threw the gubernatorial equivalent of a temper tantrum Thursday and removed Aramis Ayala — the only black elected prosecutor in Florida history — from a high-profile murder case because she wouldn't seek the death penalty, according to multiple reports.
The governor's decision to pull Ayala off the Markeith Loyd case — in which Loyd stands accused of murdering his pregnant ex-girlfriend, Sade Dixon, and Orlando Police Lt. Debra Clayton — came hours after the Orange-Osceola state attorney announced that she would not pursue capital punishment for anyone convicted on her watch.
"I have determined that [asking for the death penalty] is not in the best interest of the community or the best interest of justice," Ayala said during a news conference Thursday, according to the Orlando Sentinel. "I will not be seeking the death penalty in any cases handled in my office."
Scott responded by accusing Ayala of refusing to "fight for justice" for Clayton's family. He called on Ayala to recuse herself from the Loyd case, and when she refused, Scott removed her and replaced her with State Attorney Brad King, who is white.
"[Ayala] has made it clear that she will not fight for justice, and that is why I am using my executive authority to immediately reassign the case," Scott said, according to the Orlando Sentinel.
Florida is one of the most bloodthirsty U.S. states when it comes to capital punishment. It was one of just five states to execute a person in 2016 — a year when fewer states were pursuing executions than in any year since 1983 — and currently houses nearly 400 people on its death row, second only to California. Florida's capital punishment apparatus is also rife with racial disparities. Black people make up less than 17% of the state's population, but nearly 40% of inmates on Florida's death row are black. 
In 2016, the practice hit a speed bump when the U.S. Supreme Court ruled Florida's death penalty procedures unconstitutional and rendered hundreds of capital punishment cases eligible for potential re-sentencing. The Florida Supreme Court followed by ruling that only a unanimous jury could sentence a person to death. Before that, Florida courts could kill a person if just seven out of 12 jurors voted in favor.
Ayala joined most of the modern world when she made her announcement Thursday. Every country in Europe except for Belarus has abolished the death penalty, as have Australia, Canada, Mexico and most of South and Central America. The majority of African countries have abolished capital punishment too, either outright or in practice. Ayala also has the advantage of relying on empiricism in her decision-making: There's no evidence to suggest that the death penalty deters crime.
Meanwhile, the families of Markeith Loyd's victims are split on Scott's decision to remove Ayala from the case.
"My closure will be when Markeith Loyd is six-feet under," Seth Clayton, the widower of Lt. Debra Clayton, told Orlando's deputy police chief Thursday, according to the Orlando Sentinel. 
But Sade Dixon's father, Ron Daniels, and mother, Stephanie Dixon-Daniels, both expressed frustration with Ayala's removal. Daniels said he had already met with and built a rapport with the Ayala's team. Dixon-Daniels was concerned about the lack of closure that might come with a death penalty conviction, which could drag on for years in the appeals process.
"Life, no chance of parole, we get closure," Daniels told WOFL, "but now if you give him the death penalty, he comes back. Every time he appeals this family or any family has to relive that case all over again."
"We all need to stand behind [Ayala]," Dixon-Daniels said Friday, according to WKMG. "I want him dead as anybody else. But he will die in prison."
Ayala has confirmed via statement that she will abide by Scott's order either way.
March 17, 2017, 3:43 p.m.: This post has been updated.