Marines United spokesman says nude photo leak proves women shouldn't serve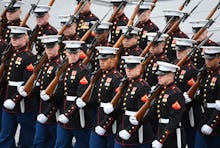 A spokesman for Marines United seemed to draw all of the wrong conclusions when asked to explain why members of the 30,000-member Facebook group made up of current and former military personnel distributed nude photos of their female colleagues.
In an interview with the Daily Beast, former U.S. Marine Marshall Chiles suggested the scandal was the result of "integration" problems in the military — proof that perhaps women shouldn't serve alongside men at all. 
"I think the exploitation of sharing nudity of other service members online will eventually get solved, but ... you still have special cases going on inside units," Chiles said. "So when you integrate women, those numbers are going to spike up within those infantry units and that's just more things for the Marine Corps to worry about."
Chiles dismissed the incident with a "boys will be boys" kind of attitude, telling the Daily Beast that bad behavior is inevitable when you get a group of 30,000 men together; there will always be "1% or 10%" who will make bad decisions. He saw attempts to put an end to the military's problem with sexual harassment and assault as futile.
"The Marine Corps is supposed to go out and win wars, being the front line of defense for America," he told the outlet. "So why should would we integrate women when we know it's going to happen and it's just going to continue to be a huge distraction?"
Despite Chiles' suggestion that women be made scapegoats for their male colleagues' indiscretion, Savannah Cunningham — one of the women whose photos were share din the Facebook group — said she's hopeful the Marines' toxic masculinity problem will change.
"Someone needs to stand up and say this does not represent the values of the Marine Corps," she said in an interview with the New York Times. "If not me, then who? Yes, for a long time it was a boys' club, but there needs to be progress."
Cunningham, 19, starts basic training in the Marine Corps in April.
"We have to be positive examples of the change we want to see," she told the Times. "Courage, integrity, honor: I want to live those values."
As hearings and investigations into the nude photo scandal continue, senators like Kristen Gilibrand are pressing the military to make substantive changes to its culture. 
"It is a serious problem when we have members of our military denigrating female marines who will give their life to this country in the way they have with no response from leadership," Gillibrand told Marine Gen. Robert Neller, who said he didn't know who was being held accountable for the scandal.
"I can tell you, your answers today are unsatisfactory," Gilibrand said. "They do not go far enough."