'Breath of the Wild' Sales: New 'Zelda' is Nintendo's fastest selling launch title ever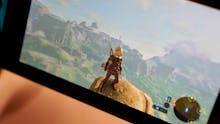 The Nintendo Switch's launch lineup is pretty meager, but it has a secret weapon no other console has ever had at launch: The Legend of Zelda: Breath of the Wild. Plenty of people (myself included) bought the console at launch just to play Zelda, either because they didn't own a Wii U or wanted their old console consigned to the dustbin of history.
While we don't have exact sales figures yet — the NPD Group will release a games industry sales report at the end of March — Nintendo of America president Reggie Fils-Aime says Breath of the Wild is doing just fine for itself based on early returns. 
Zelda: Breath of the Wild sales: Nintendo's fastest selling launch title
New York Times reporter Nick Wingfield interviewed Fils-Aime shortly after the console launched earlier this month. Fils-Aime made a couple of statements about the early success of the console, but this one stands out the most:
There are a couple of things to consider here. Fils-Aime didn't give specific numbers, so we're left to third-party analysis to find out how much the game has actually sold (more on this later). He also specified that it's the best-selling standalone launch title, distinguishing it from the original Super Mario Bros. or Wii Sports, the latter of which was the best-selling game of all time at one point. Those two games came with the NES and Wii, respectively, and the Switch (or any console) is unlikely to reach the phenomenal market share of those platforms.
This is still impressive, though, as its main competitor would then be Super Mario 64, which singlehandedly sold the Nintendo 64 to consumers in 1996. With a hair under 12 million units sold over its lifetime, it's the best-selling Nintendo 64 game by a comfortable margin. If Breath of the Wild is an even better system seller than one of the greatest games of all time, it's probably doing well for itself.
If you still want numbers, though, there are numbers to be had. A report from research firm SuperData (courtesy of Extreme Tech) estimates that Breath of the Wild has sold 1.34 million units to date, with 89% of Switch owners purchasing the game. Aside from being a very solid pull for the first two weeks of sales, that's a staggering percentage of people buying a console for one game. 
They must have seen our article about how to ride a bear in Breath of the Wild and ran out to purchase the Switch immediately.
Check out more Nintendo Switch news and coverage
Looking for more Nintendo Switch news? Learn why the Switch cartridges taste so bad and how even blind gamers are joining in on the Switch fun. Check out our comparison photos sizing up the Switch to the Wii U GamePad (part one and part two), find out how to make use of ethernet without the dock and the best way to get alerts when new stock arrives.