Kim Kardashian's Paris robbery details to air on 'KUWTK' Sunday, March 19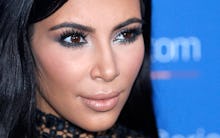 Kim Kardashian West saw her world spiral out of control when she was held at gunpoint by robbers in Paris last October. West will be sharing details about the life-threatening experience on an episode of Keeping Up With the Kardashians airing on E! Sunday, March 19 at 9 p.m. Eastern. 
In the episode preview below, West describes the moment she realized her hotel room had been invaded. 
I saw two guys holding another guy down in police uniforms, but right outside of my bedroom, five feet away. So I slid off my bed and picked up my phone. And I'm like, I don't know how to call 911 in a different country. And so, like, I called Pascal, and then the guy came and grabbed the phone from me, threw me on the bed and I was like, "This is it." 
Pascal, West's bodyguard, was out with her sister Kourtney Kardashian. This left West alone when the attack happened. West, who had been sharing their trip on social media, believes the men had been following her and her sister and plotting the robbery during their entire visit. 
"They had this window of opportunity and just went for it," she said, according to E!. 
The men reportedly stole the $4.5 million engagement ring that Kanye West gave his wife, two cell phones and a jewelry box. In January, four individuals were charged in connection to the alleged robbery.
Kanye was onstage performing at the Meadows Festival at Citi Field in New York City when he got the news about his wife's incident. He abruptly ended the show and told the audience that he had a family emergency.
Mic has ongoing Kim Kardashian West coverage. Please follow our Kim Kardashian West hub here.