Morrissey sells "black is how I feel on the inside" James Baldwin T-shirt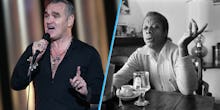 Anyone who's seen a performer live knows they'll be able to purchase some swag with their favorite lyrics on it. But not quite like this. 
British singer Morrissey is in hot water after selling merchandise at concerts featuring the face of writer James Baldwin, who is currently the subject of critically beloved documentary I Am Not Your Negro. 
Featuring Baldwin's face is not the problem. On the shirt, hovering around Baldwin's face like a racist halo, are the lyrics to the Smiths' "Unloveable": "I wear black on the outside 'cause black is how I feel on the inside." 
Yikes. 
Morrissey's history of overt racism adds another wrinkle to this T-shirt issue. In the past, Morrissey has called Chinese people a "subspecies" and made xenophobic comments about immigrants coming into Great Britain. 
People on Twitter were quick to point out the racism of using Baldwin's image to promote a lyric that has nothing to do with blackness — and doing so to make a profit.
The verdict is clear. The shirt is a problem — no matter which way you dress it up.