Duke basketball coach Mike Krzyzewski calls North Carolina's HB2 a "stupid thing"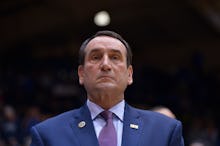 Duke basketball coach Mike Krzyzewski sounded off on North Carolina's anti-trans bathroom bill ahead of the Blue Devils' first game in the NCAA tournament Friday, calling House Bill 2 "stupid" and urging the state to get "smart."
Greensboro, North Carolina, was originally set to host first and second round March Madness games, but the games were moved to Greenville, South Carolina because of HB2. Krzyzewski, who has coached the Duke men's basketball team to five NCAA championships, said he did not "want to get too political," but said that if he were "president or governor, I'd get rid of" the discriminatory law.
"It would be nice if our state got as smart and also would host not just basketball tournaments but concerts and other NCAA events," Krzyzewski said. "But maybe we'll get there in the next century, I don't know. We'll see."
This is not the first time Coach K has spoken out against HB2. In July, he called it "embarrassing." In his comments ahead of Duke's Friday night game against the Troy Trojans, he echoed his previous criticism.
"Look, it's a stupid thing," Krzyzewski said. "That's my political statement. If I was president or governor I'd get rid of it. And I'd back up my promises. As unusual as that might be. Anyway, I don't want to get too political."
The law — signed by former Gov. Pat McCrory in March 2016 — effectively requires North Carolina residents to use the bathroom corresponding to their gender as assigned at birth. The NCAA has said it will not host championship events in North Carolina as long as HB2 remains in effect. "The NCAA's decision to withhold championships from North Carolina remains unchanged," NCAA spokesman Bob Williams said in a statement after the state failed to repeal the law. 
North Carolina Tar Heels coach Roy Williams has also been a vocal opponent of HB2, calling it "discriminatory" and "not right." Williams again criticized the law on Thursday, saying it is "not the way I'd like for it to be."