Trader Joe's recalls frozen breakfast burritos for possible contamination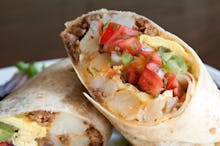 On Thursday, Flagship Food Group recalled 8,622 pounds of frozen burrito products sold at Trader Joe's locations. The product, Trader Jose's Breakfast Burritos with eggs, potatoes, cheese and turkey bacon, may have been compromised with pieces of clear plastic, according to the U.S. Department of Agriculture's Food Safety and Inspection Service. 
The compromised product is labeled with the establishment number EST. P-45574 and bears the following label:
The items were distributed in retail locations in Illinois and Pennsylvania, according to FSIS. FSIS was notified by three separate consumer complaints. One reported a minor injury to the mouth, but no other additional injury complaints were reported. 
FSIS urges anyone who has the product in their household to discard of it, or return it to the original retail location. Questions about the recall can be directed to Jessica Haas, customer service representative, at (800) 292-9900.