Parody of viral BBC video imagines how a working mom would have handled things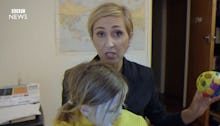 The minute associate international relations professor Robert Kelly's 4-year-old daughter, Marion, sauntered into the room during her dad's live interview with the BBC, the clip was destined for virality.
But while Kelly sat stoically in front of his webcam — aware of both Marion and his infant son, James, who scooted into the room after her, it was his frazzled wife, Kim Jung-A — who ultimately swooped into the room to save the day. 
New Zealand-based comedy duo Jono and Ben spoofed the moment in a video uploaded to their YouTube channel on March 16. The parody imagines what would have gone down if a woman had been sitting in the hot seat to begin with — and the results are priceless. 
In the spoof, the working mother standing in for Kelly bottle feeds her intruding toddler, scrubs toilets and cooks a roast while fielding her interviewer's questions about former South Korean President Park Geun-hye's impeachment. 
When her boorish husband stumbles in at the end looking for his other sock, she signs off on the interview promising to help him find it.
The parody video makes it clear: Though Kelly might have been in the midst of a heady interview on North and South Korean relations when the BBC video was captured, it was a woman's swift heroics that ultimately won the day.