Donald Trump just said he is "100% behind" the GOP health care bill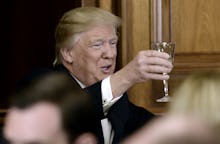 President Donald Trump said Friday he is fully behind the Republican health care plan introduced in the House last week, calling it a "great plan" that's "going to be fantastic" for Americans.
"I want everyone to know, I'm 100% behind this," Trump told a group of conservative House Republicans in the Oval Office.
Trump's out-and-out endorsement of the plan comes after he admitted to Fox News' Tucker Carlson in a Wednesday night interview that the plan would hurt his base of voters the most, calling the bill "preliminary."
However his Friday comments show he's fully behind the bill.
"This is going to be great for people," Trump said, adding, "Obamacare is dead."
Trump's full-throated support of the bill could lead to political problems for his party down the line, if the bill passes and has the kind of effects the Congressional Budget Office predicted.
A CBO report predicted that 14 million people would lose their health insurance by 2018, when voters head to the polls for the midterm elections. The CBO also predicted costs would skyrocket by thousands of dollars per year for older Americans, the most active voting bloc in the country.
If the CBO's predictions pan out, Trump's videotaped reports saying he's "100% behind the bill" could be prime fodder for future Democratic attack ads.
For now, however, it's unclear whether the GOP bill in its current form can pass.
At least 16 Republicans have said they will vote "no" on the bill in its current form, just five shy of the 21 GOP defections that would kill the bill in the House. Twenty-five others have said they are "unclear or uncertain" about how they'll vote, according to the Hill, a Capitol Hill newspaper. 
And at least a dozen Republican Senators have expressed concern with the bill — many more than the three defections needed to kill it in the Senate.