Michelle Obama gave this 'MasterChef Junior' contestant some inspiring advice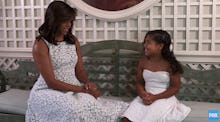 Former first lady Michelle Obama may not be in the White House any longer, but she's still gracing our lives by popping up on TV shows to offer inspirational advice and promote healthy eating.
Obama appeared on a recently-aired episode of MasterChef Junior, Fox's reality competition show for wildly talented kids who put the rest of us to shame with their flambé techniques. In the episode, which aired Thursday, Obama appeared on a video screen with a pretaped message, instructing the young chefs to cook a challenge inspired by ingredients found in the White House kitchen garden, People reported.
The challenge winner, 11-year-old Justise Mayberry, got a very special prize — she got to go to the White House and meet Michelle Obama at the Kids' State Dinner, in July. And in a video shared online, according to the Huffington Post, the world got to watch Mayberry and Obama hang out together in person. 
In the video, Mayberry asks Obama what advice she has for her and other kid chefs. "There is nothing more important that you can do for yourself than to get an education," Obama told her. "Doing your best not just in the kitchen, but you've got to be your best in the classroom. I want you all to keep pushing and preparing yourself for college and doing well."
And, Obama added, it's important to "use your voice and help others" learn about nutrition, "because a lot of kids don't how important it is to eat healthy."
Mayberry will probably hang on to that advice from the former first lady for a long time. Obama's legacy of healthy eating also lives on in the White House: In February, a spokesperson for Melania Trump announced that the new first lady would keep Obama's vegetable garden intact.