New Jersey is first state to require presidential candidates to release their tax returns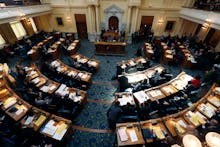 President Donald Trump was the first presidential nominee since 1976 to not release his full tax returns — and New Jersey is working to make sure it doesn't happen again.
New Jersey's state legislature passed legislation on Thursday in response to Trump's withheld tax returns. The bill, which is now up to Gov. Chris Christie to approve, would require all candidates for president and vice president to release tax returns "for at least the five most recent taxable years" in order to appear on the state ballot. 
The bill also prohibits New Jersey electors from voting for candidates that have not released their tax returns.
"This is an issue of national security as well as transparency," Assemblyman John McKeon, one of the bill's main sponsors, told NJ.com.
Though several Democrat-controlled states have proposed similar legislation, New Jersey became the first to officially pass such a measure. The state legislature, which is controlled by Democrats in both chambers, passed the legislation by a vote of 48-26 in the state Assembly and 24-11 in the state Senate, with most congresspeople voting along party lines. 
Whether or not the bill will actually go into effect remains to be seen. Christie, an ally of Trump, is widely expected to veto the bill.
Should Christie strike the measure down, the state legislature could override the veto with a two-thirds vote in both houses, which would require 27 Senate votes and 54 Assembly votes. If that fails, state legislators could also re-introduce the measure in January after Christie's gubernatorial term ends.
At the moment, state Republicans don't seem likely to give Democrats the extra votes they need for an override.
"If transparency and income taxes were the issue, the majority would have passed a bill in the past decade-and-a-half requiring all of us to show our income," Assembly Minority Leader Jon Bramnick said. "This bill has political overtones and is clearly one we on this side of the aisle do not support."
Detractors are also raising questions over the bill's constitutionality, suggesting that states don't have the right to add additional stipulations dictating who can run for president.
"We all know the majority party wants to redo 2016. It's not going to happen. The vote is over," Republican Assemblyman Jay Webber said, as reported by NorthJersey.com. "This body and the New Jersey State Senate and the governor of the state of New Jersey has no authority to add additional requirements to who can run for president of the United States." 
Legal experts are currently divided on the measure's constitutionality; NJ.com notes that some, including David Chen of Rutgers University's law school, say the bill is unconstitutional, while Laurence Tribe, a constitutional law scholar at Harvard University, predicted a similar measure in New York would withstand constitutional scrutiny in an interview with the New York Times.
Should the bill pass and become law, it would take effect in 2020 — just in time for Trump's potential re-election.