Nintendo Switch Stock Update: Nintendo said to double console production for 2017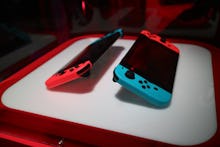 If you didn't manage to get a Nintendo Switch on launch day, you're not alone. The console — and the launch day title Legend of Zelda: Breath of the Wild — have sold ridiculously well, and Nintendo is already amping up for a second round of production. The good news is this means that soon you'll be able to buy a Nintendo Switch again, but the bad news is it might not be happening as soon as you'd think.
Nintendo Switch stock update: More units may be coming soon
According to the Wall Street Journal, after the initial movement of two million Switch units in the console's release month of March, Nintendo is planning to begin production of 16 million more consoles this year, starting on April 1. This figure is double what the company initially expected to produce, and is allegedly the result of strong demand for the console.
If these numbers are true, it means that the second round of Switch production is set to exceed the total number of Wii U consoles sold to date (13.5 million units) by almost 3 million units within its first year. This not only speaks to the abysmal sales of Nintendo's previous console, which ended up costing them 35 billion yen after a projected 100 billion yen profit in 2013, but might give us some insight into their slightly more cautious approach to the Switch.
However, The Verge also notes that we're not likely to get official word from Nintendo until April 27, when the company will report its recent earnings and broadcast its projections for future.
Nintendo Switch stock: When can consumers expect new units?
The short answer is: within the next six months. The longer answer is a little more nuanced than that. Certainly, 16 million Switch consoles seems like a lot, but you've got to keep in mind that this will be worldwide and for the entire fiscal year. 
Additionally, as New York Magazine reminds us, it still takes time to get production up and running for a console, especially to the tune of 8–16 million units. Your chances of getting a Switch if you live in North America will get much better over the next six months as we head into the console's first holiday season, but it's not going to be immediate and it's not going to guarantee that you'll get your hands on one as soon as production starts next month, since we don't know how distribution is going to be handled.
So if you're waiting for a Switch, you should expect to wait at least a little while longer — unless you're willing to pay extra to a reseller on Ebay or Craigslist
More Nintendo Switch news and updates
Looking for more Nintendo Switch news? Learn why the Switch cartridges taste so bad. Check out our comparison photos sizing up the Switch to the Wii U GamePad (part one and part two), find out how to make use of ethernet without the dock and the best way to get alerts when new stock arrives.