Tim Allen says being a conservative in Hollywood is like living in Nazi Germany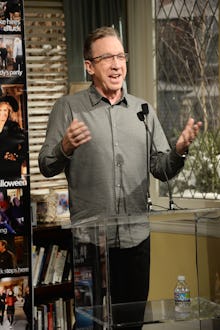 It's hard to be a conservative in Hollywood these days. Just ask actor and renowned grunter Tim Allen, who apparently feels like he's living in Nazi Germany.
"You've gotta be real careful around here," Allen said during an appearance on Jimmy Kimmel Live! Thursday night. "You get beat up if you don't believe what everybody believes. This is like '30s Germany. I don't know what happened. If you're not part of the group, 'You know what we believe is right,' I go, 'Well, I might have a problem with that.'"
Allen, like the character he plays on Last Man Standing, is a conservative. In a January 2016 interview with the Hollywood Reporter, he praised Donald Trump as someone "who might be able to do the stuff that really needs fixing." Meanwhile, he compared the Clintons to herpes: "Just when you think they're gone, they show up again."
In the same interview, he described Democrats as "the free shit party." 
Allen backed John Kasich in the GOP's 2016 campaign.
Allen also told Kimmel that he went to Trump's inauguration, speaking glowingly of the swearing-in that a number of other celebrities boycotted. 
"This government does stuff big," he said. "I've never been to anything like that."
The Toy Story actor has taken shots at Hollywood before. After the election, the "Tool Man" described Hollywood liberals as "hypocritical" for "bullying" Trump supporters during an interview with Megyn Kelly. 
"What I find odd in Hollywood is that they didn't like Trump because he was a bully," Allen told Kelly in November. "But if you had any kind of inkling that you were for Trump, you got bullied for doing that."
In his appearance on Kimmel Thursday, Allen also joked about gay pride parades — they "have a different tone than Disney on Ice parades" — and about how Americans have surrendered their privacy.