Laptop with info on Trump Tower, Clinton stolen from Secret Service agent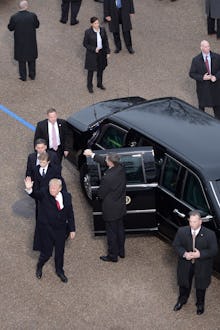 Police are scrambling to retrieve a laptop that was stolen from a Secret Service agent in Brooklyn, New York, Thursday morning.
The computer contained information about Trump Tower and the investigation into Hillary Clinton's use of a private email server, authorities told the New York Daily News. 
The Daily News and other outlets first reported that the computer's contents were classified, but a Secret Service statement later indicated otherwise.
"Secret Service issued laptops contain multiple layers of security including full disk encryption and are not permitted to contain classified information," the statement reads. The Secret Service, however, will of course continue investigating the theft.
The laptop was reportedly swiped from the agent's vehicle along with other items, including a black bag bearing the Secret Service logo and what the Daily News reports as "coins."
While the less valuable items have since been recovered, police are still on the hunt for the laptop, as well as the agent's access card and additional documents described as "sensitive."
"The Secret Service is very heavily involved and, citing national security, there's very little we have on our side," one New York Police Department source told the Daily News. "It's a very big deal."
According to the Daily News, the agent's vehicle was parked in her driveway in Brooklyn's Bath Beach neighborhood when it was robbed. Video footage from the scene captured the suspect leaving the area with a backpack, which presumably contained the stolen items.
"There's data on there that's highly sensitive," the police source told the Daily News. "They're scrambling like mad."
March 17, 2017, 2:36 p.m.: This story has been updated.