iOS 10.3 Public Beta 7: How to get the iPhone update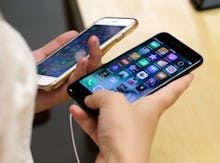 The latest iOS 10 beta, the iOS 10.3, has been released ahead of iOS 11's much-anticipated spring launch. The seventh iOS 10.3 update is currently only available for public beta testers and in beta for registered developers.
According to ZDNet, the latest iOS beta includes "optimization for solid state storage, strong encryption, better file time stamping (down to the nanosecond), and many storage saving improvements." It's the first iOS version to include the "Find My AirPods" feature within the Find My iPhone app. It's also the first version to have iCloud Analytics.
How to get iOS 10.3 public beta 7
BGR reports the new iOS 10.3 update has a pop-up feature that lets the user know which old apps will be incompatible. Once iOS 11 rolls out, roughly 187,000 32-bit apps in the App store will become obsolete.
CNET recommends that users looking to upgrade their software first back up their device on the off chance there are any problems. Users have two methods to backup their device: via iTunes or via iCloud. 
How to become a public beta tester
Those who have not signed in to be a public beta tester can do so on the Apple website. "As a member of the Apple Beta Software Program, you'll be able to enroll your Mac or iOS device to access the macOS and iOS public betas," the website says. "Each public beta comes with a built-in Feedback Assistant app that appears in your Dock on your Mac and on the second page of your Home screen on your iOS device. When you come across an issue that needs addressing, send your report directly to Apple with Feedback Assistant."