Watch Donald Trump snub Angela Merkel in his most awkward moment with a world leader yet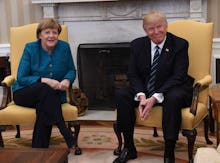 President Donald Trump completely snubbed German Chancellor Angela Merkel in a meeting in the Oval Office Friday, ignoring her when she leaned over to ask for a handshake.
The moment happened after photographers asked the two world leaders to shake hands during a photo op at the White House. 
Merkel leans over to ask Trump, "Do you want to have a handshake?" But Trump completely ignores her, refusing to even look at Merkel with a pained look upon his face.
The handshake snub is his most uncomfortable moment with a world leader to date. 
His handshakes with Japanese Prime Minister Shinzo Abe, British Prime Minister Theresa May and Canadian Prime Minister Justin Trudeau all made headlines for how rough Trump was their hands — violently pulling them toward himself in what body language experts called an attempt to show strength. 
Trump has been critical of Merkel in the past over her support for refugees. Merkel has been critical of Trump over his travel ban.
We dig through the Donald Trump news so you don't have to. Sign up here for Navigating Trump's America, our daily newsletter about the president.