'Destiny 2' Release Date Rumors: Reddit may have figured out when the game will launch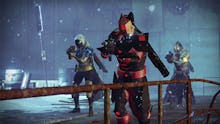 Destiny 2 is an elusive beast. We know that it exists and most of the things you grinded for in the first game won't carry over to the sequel. It's supposedly a very different game that will, for the first time, come to PC alongside PlayStation 4 and Xbox One.
Other than that, there hasn't been an official unveiling of the game, its title or its release date, just a vague promise of something in 2017. Thanks to Reddit, though, we might have a better idea of when to expect Destiny 2.
Destiny 2 release date rumors: Redditor speculates it's coming at the end of August
Hat tip to PlayStation Universe for finding a Reddit post by Artandalus, who looked at the schedule for Destiny's now-winding down regular content updates. Until July 18, Destiny will feature new Daybreak strike variations one week per month until July 18. After then, Daybreak will last for six straight weeks, ending on Aug. 29.
The thinking here is that this event will somehow lead up to the release of Destiny 2, putting its release on or near Aug. 29, which is a Tuesday. Destiny and its major expansion packs all launched around the same time of year, so this would be in keeping with how Bungie has done things up to this point.
It's a sound theory, but it's possibly a bit concerning that we're coming down to the wire (relatively speaking) without Bungie having officially unveiled the game yet. The company does regular streams to update players on new developments, but a full-on sequel unveiling might warrant something bigger. That said, there are multiple large events (such as E3) between now and then, so if Destiny 2 is indeed a late-August game, we'll have plenty of chances to hear about it before then.
More gaming news and updates
Check out the latest from Mic, including our deep dive into how female Overwatch players are dealing with online harassment, a cool making-of video for Legend of Zelda: Breath of the Wild and an investigation into what a Bechdel test for gaming might look like.