Nintendo Switch 'Arms' is not enough — sports fans are dying for a realistic boxing game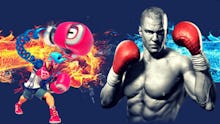 The upcoming Nintendo Switch game Arms looks interesting, but it's not real boxing. It looks like a game that could be extremely competitive online, and it may even have a future as an eSport title, but it's not boxing.
Unfortunately for serious boxing fans, it seems developers are doing everything but making a new boxing simulation video game. The last one released for any console or on PC was EA Sports' Fight Night Champion in 2011.
New boxing video games: There's clear interest from fans
Meanwhile, gamers who are fans of the sport have been pining for another version of Fight Night or for some developer/publisher to give us another gaming version of the sweet science. Some gamers have even organized petitions and circulated hashtags like #wheresourboxingvideogame to stimulate the movement.
There's a belief that boxing's popularity is down — thus no developer is willing to touch the sport — but that's probably a bit of an exaggerated concept. Is boxing the major draw that it was in the 1980s? Probably not, but there's reason to believe the interest is still there. 
On March 4, Keith Thurman battled Danny Garcia in a welterweight unification bout on CBS, and its ratings were strong. It peaked at 5.1 million viewers. Apparently, there's still folks interested in the sport.
The virtual fight game market is wide-open, too. There's really no competition. So any boxing game is going to draw the attention of every fan of the sport who is also a gamer.
How to make a new boxing video game happen
Boxing doesn't have a primary governing body like baseball with Major League Baseball, football with the National Football League, or even mixed martial arts with the Ultimate Fighting Championship. So any company can make an authentic boxing game without needing to secure expensive licenses to validate its game.
There's a downside to that, too. Any developer would have to negotiate with every fighter separately or offer a roster of fictional boxers instead. Then again, instead of forking over millions to get Floyd Mayweather Jr. in the game, developers could instead invest in giving fans the best create-a-fighter suite.
There are some talented people in the gaming community when it comes to recreating athlete likenesses in games – especially if they're given a powerful tool. If a developer supplies the tool and essentially allows the crowd to source that aspect of the content, they'd not only address a lack of fighter licenses but also give the game's community an opportunity to become vested in the growth of the game.
The door is open for an independent developer to tackle this project. The question is: Will we ever see any firm take on the challenge? Virtual pugilists have their fingers crossed.
More sports gaming news and updates
Are you a sports gamer? Check out more content from Mic, including tips for leveling up your NBA 2K17 MyPlayer, playing quarterback in Madden 17, the latest information on MLB The Show 17 and the classic Nintendo sports games we want to see on the Switch.