How Charles Manson is connected to the Beach Boys: His relationship with Dennis Wilson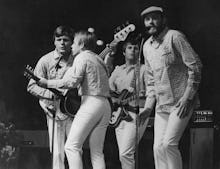 The Beach Boys may be known for their feel-good tunes like "Good Vibrations" and "Surfin' U.S.A.," but in the 1960s they also had ties to cult leader Charles Manson. The story of Manson and his followers is being told on ABC Friday night as part of the network's Truth and Lies series. The special not only features raw footage of the criminal, but an interview with Beach Boys co-founder Mike Love. That begs the question: How is Manson connected to the Beach Boys?
Dennis Wilson and Charles Manson 
Beach Boys member and Love's cousin, Dennis Wilson, was roommates with Manson before the famous Sharron Tate and Leo and Rosemary LaBianca murders in 1969. Love wrote in his memoir, Good Vibrations, that Wilson and Manson became roommates after Wilson found Manson staying inside his rented home on Sunset Boulevard. The two didn't know each other prior, but Wilson let Manson — and some of his followers — stay at his home. 
According to Love, that act of generosity ended up costing Wilson approximately $100,000. Manson and his "family" took advantage of the entertainer. But Wilson never kicked them out. He reportedly moved out instead.
An alleged Manson murder
Manson was known for manipulating his followers into carrying out violent crimes, but Wilson allegedly watched Manson shoot a man.
"I just saw Charlie take his M16 and blow this black cat [guy] in half and stuff him down the well," Wilson reportedly told Love. 
Love wrote about the exchange in his book, but nothing has been proven. Los Angeles county prosecutor Stephen Kay, who helped convict Manson, told People that the story likely came from Wilson's drug use.
"I've prosecuted four Tate-LaBianca murder trials and attended 60 parole hearings [of Manson family members] and I've never heard that story before," he told the outlet. "If it was true, I would have heard it before."
The Beach Boys and Charles Manson song: "Never Learn Not to Love"
Prior to becoming a cult leader, Manson was an aspiring musician. Wilson introduced him to the rest of the Beach Boys, and ultimately ended up stealing a song from him.
"Never Learn Not to Love" was originally written by Manson under the title "Cease to Exist." The group recorded it after changing some of the lyrics. However, there are conflicting reports on whether Manson "gave" them the song or if Wilson stole it from him. Manson reportedly received some money and a motorcycle in exchange, but was not happy that Wilson was credited as the composer. Jeff Guin, the author of "MANSON: The Life and Times of Charles Manson," alleges that Manson threatened Wilson. He is said to have left a bullet for the Beach Boys member, along with a note saying that he knows where his children are.
John Stamos, who has played with the Beach Boys, told TMZ in 2014 that the group no longer performs the song.
Truth and Lies: The Family Manson airs on ABC Friday at 9 p.m. Eastern.