This Austin abortion clinic is the first to open since the Supreme Court's landmark ruling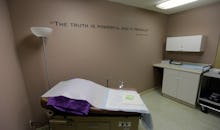 As the GOP's ongoing war against reproductive choice threatens to shutter family-planning clinics across the country, there's good news for Whole Woman's Health, an abortion provider set to reopen after a four-year hiatus. 
The Austin, Texas clinic was forced to shut its doors in 2013 when former Gov. Rick Perry signed legislation requiring abortion providers to have admitting privileges at local hospitals and the facilities themselves to meet the same standards as surgical centers. According to MyStatesman.com, the new regulations resulted in the closure of more than half of the state's 41 abortion clinics, including Whole Woman's Health.
Insisting that the law placed an "undue burden" on abortion clinics, Whole Woman's Health filed a legal challenge against Texas Department of Health Services Commissioner John Hellerstedt in a case that made it all the way to the Supreme Court.
In June, Supreme Court justices handed down a landmark 5-3 decision, amounting to a win for Whole Woman's Health and all Texas abortion clinics.
Whole Woman's Health will be the first clinic to reopen since the ruling, but its staff is now staring down the daunting task of rebuilding their facility from the ground up.
"When you close down a clinic, you're laying off staff, you're selling equipment, you're completely getting rid of everything," Fatimah Gifford, the clinic's vice president of communications, told the site. "What we've had to do is basically start over."
What's more, Whole Woman's Health — like all abortion providers in the United States — continue to face an uncertain future under an administration with its eye on overturning Roe v. Wade. Texas especially has always faced an onslaught of anti-abortion bills, like one the Senate approved on Wednesday that would ban "partial-birth" abortions. 
Still, Whole Woman's Health is taking one thing at a time — and its staff is just happy to be open to the community again.
"We could not have re-opened this clinic without the collective support of this community," Amy Hagstrom Miller, the clinic's president, told local Texas outlet KXAN. "You have rallied with us and for us to be able to provide the best quality care to the people of Central Texas and we are back."