Would Bernie have won? Americans still like him more than Trump, poll shows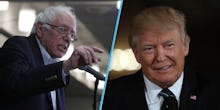 Bernie Sanders may not be popular with million-ahs and billion-ahs, but he's certainly still popular with the American people. 
In a small-scale Fox News  poll of 1,008 registered voters, 61% viewed Sanders — who ran on a platform of income inequality — favorably. In comparison, only 44% looked favorably upon President Donald Trump. 
When it came to unfavorable ratings, the gap between the two was even vaster. Only 32% of those surveyed held an unfavorable view of the Vermont senator, while 53% held unfavorable views of Trump. 
Sanders famously ran against Hillary Clinton in the Democratic presidential primaries, but he failed to amass the number of delegates needed to clinch the nomination. During his run, Sanders became extremely popular with the progressive wing of the Democratic party — and birds.  
Though Sanders has said he doesn't want to be a "Monday morning quarterback," he has said he felt he could have defeated Trump in the general election. 
"In my heart of hearts, I think there's a good chance I could have defeated Trump, but who knows," he told the Washington Post. 
According to the poll, Sanders is just one member of a long list of institutions that are more popular than the president. 
Of those polled, 47% held favorable views of Vice President Mike Pence. Most people also held favorable views of health service organization Planned Parenthood (57%) and the Affordable Care Act (50%), even if it's not very popular with Republican senators. 
Around the same number of people who disapproved of Trump said they disapproved of the president's job performance so far (51%). After a two-month series of snafus — including two Muslim travels bans struck down by federal judges, 52% of voters are not confident Trump will bring "significant positive change" to the U.S.